Photo Gallery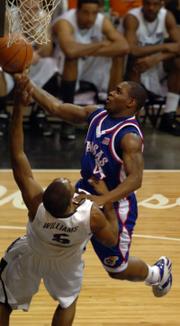 KU vs. Colorado
Boulder, Colo. — So distraught he didn't know if he'd be able to continue playing basketball, Darnell Jackson sought out a person he could trust for a heart-to-heart talk last Christmas season.
That would be his coach, Bill Self.
"I cried, and he hugged me," Jackson, Kansas University's junior forward from Oklahoma City, said. "He said God makes these things happen for a reason. Everything that happens is for a reason.
"Coach Self really helped me. I don't really have a male figure in my life. I really appreciate what he did for me," Jackson added after grabbing 11 rebounds and scoring four points in KU's 75-46 victory over Colorado on Wednesday at Coors Events Center.
What Self did was listen to Jackson talk about much heartache in his young life.
Darnell's mother was seriously injured and his grandmother died from injuries sustained in a car wreck in Las Vegas after his freshman year. Also, his uncle died, his grandfather died and his cousin and best friend were murdered - "killed by a semiautomatic," Jackson said - the past year.
"Ever since I got here, stuff has been falling in my lap, ups and downs," said Jackson, who also has battled a back injury that sometimes makes it difficult even to get out of bed.
"It eats you up inside. I was holding it all in until Christmas break when coach talked to me."
Self said he has been quite pleased with Jackson lately and indeed noticed the player has been competing with a freer mind since Christmas.
"We had a great meeting," Self said. "He was down over personal issues. He keeps things bottled up. Sometimes he needs to talk. I have great respect for Darnell and his family. He has been through so much. I really like the kid. I like the kid."
Jackson said he has made a concerted effort to play harder since the last Colorado game when Self called his big men "soft."
"Nobody likes to be called that word. I decided to try to get in position, rebound, bang, do what it takes to help us win," Jackson said.
Jackson says he has big goals for the rest of the season, notably helping KU win Big 12 and national titles. Self simply hopes Jackson is able to continue contributing in a big way despite all his hardships.
"I am proud of him," Self said. "He's gone through a lot more than I know I have gone through, and I've lived twice as long as he has. He's had heartache thrown his way. I don't know if I was his age I could cope with what has come his way."
Copyright 2018 The Lawrence Journal-World. All rights reserved. This material may not be published, broadcast, rewritten or redistributed. We strive to uphold our values for every story published.