Photo Gallery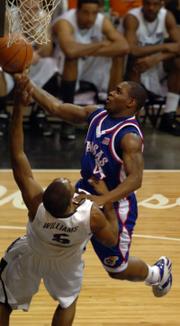 KU vs. Colorado
Boulder, Colo. — It looked at times Wednesday night as if the Colorado University basketball players had quit on their coach, but the coach vowed he never is going to quit on trying to teach them the right life lessons.
To that end, Ricardo Patton benched starters Richard Roby, a junior, and freshman Xavier Silas for the first five minutes of the game. It was only the third non-start of Roby's career.
Colorado (6-15 overall, 2-9 Big 12) learned four months ago this would be Patton's final season.
"When you find yourself in a season such as this, you find yourself as a coach starting to manage instead of coaching," Patton said. "We need to get back to coaching. We've been rewarding poor attitude. I've just decided I'm not going to reward poor attitude. I'm going to teach the right lessons. Maybe the next guy who coaches this team, they'll be ready to play for him. Right now, we're going to do what's right. And when you reward poor attitude, that's not doing the right thing. If guys don't display the right attitude, they're not going to play. That's the right thing to do."
When Patton announced that this, his 11th season, would be his last, he expressed a concern about players not playing as hard for a coach on his way out. After Wednesday night's 75-46 loss to Kansas University, Patton was asked: Have those fears been realized?
"It certainly resembled that, yes," Patton said. "It certainly resembled that to me. One of these things we talked about is never quitting, never giving up. There is no reason to do that. You play the game for the love of the game, regardless of who the coach is or how long he's going to be there. And in the long run, when you start quitting on yourself and quitting on your teammates, you end up suffering."
Patton expressed no regrets about announcing his decision when he did.
"Me stepping down was the right thing to do," he said. "It was time. It was time to move on. It was time to put a fresh face on the program in the coaching position, but that is no excuse not to play as hard as you can for the remainder of the year."
Said Roby: "I just think guys are frustrated. It's been a long season. Games like this mess with you mentally."
Colorado was outscored in the paint by KU, 40-22.
"Those guys are very talented," Patton said of KU's post players. "They're very big. They're very strong. They have four solid post players and six solid guards. They are a good basketball team. They always have been, and this year is no exception."
Copyright 2018 The Lawrence Journal-World. All rights reserved. This material may not be published, broadcast, rewritten or redistributed. We strive to uphold our values for every story published.