Boulder, Colo. — The Kansas University basketball team just might have the best perimeter rotation in the nation, but that's not all it has.
The Jayhawks' 75-46 blowout Big 12 victory Wednesday night against last-place Colorado University in Coors Events Center was an inside job.
Darnell Jackson again brought a rugged presence off the bench with 11 rebounds, and Sasha Kaun had 10 points and eight rebounds in nine second-half minutes.
Yet, the most encouraging flashes for the chances of Kansas making it a long March came from Darrell Arthur, the talented freshman who holds the key to the most intriguing remaining question for this team that plays well together at both ends, hustles and exhibits unselfishness.
Will Arthur learn how to avoid foul trouble and give the team 25 to 30 minutes on a consistent basis by the time the NCAA Tournament begins four weeks from today?
Each time Arthur looks as if he's on the verge of putting together a huge scoring outburst, he gets whistled for happy hands at the other end. Foul trouble limited Arthur to 18 minutes, time enough for him to produce 11 points, seven rebounds and two assists.
For Kansas to be as good as it can be, the team has to know it can rely on more than the 18 minutes he has averaged in the past seven games. Over the same period, he has averaged four fouls.
His quick feet at times are as much a curse as a blessing because they lead to greed.
"I think I'm just using my hands too much," Arthur said. "I'm getting too many touch fouls out there. They're not real hard fouls. They're fouls, but they're touch fouls. I've just got to try to work on my feet and my body, stop trying to steal the ball so much. I know I can steal the ball, but I come late and end up fouling. It's a mental thing."
Photo Gallery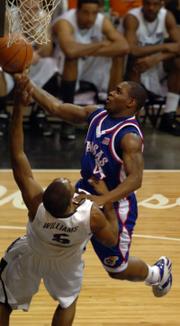 KU vs. Colorado
Arthur said he even is considering an extreme measure that he used during practice in high school.
"I might start playing defense with my hands behind my back some," he said. "I haven't done that here, but I think I need to start doing that."
Asked about the depth and versatility of the Kansas roster, Colorado coach Ricardo Patton immediately zeroed in on one player he said best demonstrates it.
"Darrell Arthur will play in the NBA," Patton said. "Darrell Arthur will play in the NBA at some point. I think anybody who has seen him would agree with that. And he comes off the bench."
Arthur likely will demonstrate enough wisdom to know that he has too much to work on to believe that could happen as soon as next season. He also knows how fortunate he is to have the learning tools to train against that he has daily in practice.
"It's a big advantage," Arthur said of facing so much talent in practice. "Darnell and Sasha are big bangers and Ju (Julian Wright) is more finesse out there. You get to guard them all in practice, so that gets you ready for all different types."
Now if he could just get the hang of guarding them with his feet, it could translate to more playing time for Arthur, which would mean better performance for a halfcourt offense that never looked better than it did against a white flag of a Colorado defense.
Copyright 2018 The Lawrence Journal-World. All rights reserved. This material may not be published, broadcast, rewritten or redistributed. We strive to uphold our values for every story published.