A no-look, behind-the-head pass doesn't sound like the safest maneuver from the free-throw line.
Missouri forward EeTisha Riddle decided to spice it up, though. Finding the open player against the Kansas University defense was becoming routine.
The brilliant pass found teammate Carlynn Savant, who converted a layup and the foul shot for a three-point play.
Riddle's creative presence in the paint led Missouri to a 67-57 victory against Kansas on Wednesday night in Allen Fieldhouse.
"She's an on-time, on-target kid," Kansas coach Bonnie Henrickson said of Riddle. "She gives people uncontested looks. She handles the double (team) probably as well as anybody does."
Riddle collected 15 points, 12 rebounds and six assists.
The loss snapped a two-game Jayhawks winning streak. On paper, the streak looked like it could reach three games based on KU's home-court advantage and Missouri's subpar conference record (15-10 overall, 3-9 Big 12).
"It definitely hurts," KU freshman forward Sade Morris said. "We know we're better than that. We know we should have come out and played better and probably should have won this game, but they brought their A-game, and we didn't."
Kansas lost its first nine conference games of the season before winning at home against Colorado, then at Texas. KU (8-17, 2-10) now sits at last place in the Big 12.
"We have to learn why we're in two one-possession games," Henrickson said of Colorado and Texas. "We scrap and fight and claw and play together, but we don't do that tonight. That makes no sense to me. We're going to have to play our little fannies off to be in a one-possession game. We played a little privileged for me tonight. We played a little soft, and that was disappointing."
Photo Gallery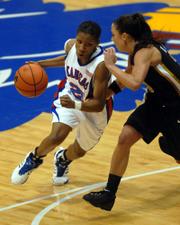 KU women vs. Missouri
Morris mentioned a lack of energy as one of the primary disappointments from the night. Kansas actually didn't score for the first 4:38.
The Jayhawks started 0-for-5 from the field and committed four turnovers during the stretch.
On the positive side, the Jayhawks responded with a 15-0 run to take a seven-point lead. Morris came off the bench and contributed seven of her 10 points during the span.
"We were more aggressive defensively," senior guard Shaquina Mosley said of the 15-0 run. "We were flying around everywhere, deflecting the ball, rebounding the ball and pushing in transition, and we just didn't stick to that."
Mosley scored a career-high 22 points and grabbed nine boards.
Freshman forward Danielle McCray made her first start of the season and responded with nine points and 11 rebounds. However, Henrickson saw room for improvement from McCray, particularly on defense.
"She has to box out," Henrickson said. "She's 5-10 on a good day, and she's going against kids who are 6-2 and 6-3, and she stands there and lets them go around her. Until she decides to develop some discipline, I told her we'll put you back on the perimeter, because we can't have you inside if you're not going to box anyone out."
Kansas will play host to Kansas State at 1 p.m. Sunday at Allen Fieldhouse.
Copyright 2018 The Lawrence Journal-World. All rights reserved. This material may not be published, broadcast, rewritten or redistributed. We strive to uphold our values for every story published.