Photo Gallery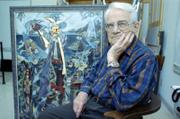 Robert Green
Robert Green quit painting a couple of years ago.
His hands were just too shaky to do the same quality art he'd been doing for 80-some years.
But he still thought about running the brush over canvas.
"Even after he quit doing it, he always dreamed of painting," says his stepdaughter, Missy Hamilton. "He'd tell me, 'You'd never believe what paintings I painted overnight.'"
Green, a longtime Kansas University professor and well-known painter, died Feb. 5 at Lawrence Presbyterian Manor. He was 97.
Green worked in a variety of media through the years, but he began to paint mostly in watercolors and egg tempera - a difficult form that uses a combination of pigments and egg yolk - later in his career, and it seemed like he always was painting.
"It seems like 30 percent of the homes in Lawrence have one of his paintings," says Hamilton, also a Lawrence artist. "He was terrifically prolific."
Green grew up in Pittsburgh and started drawing early. He eventually began studying with Edwin Zoller, who went on to become a faculty member at Pennsylvania State University.
"Actually I started drawing before junior high, but by the seventh grade I was fortunate enough to have a professional artist for an art teacher, one who was represented at the Carnegie art museum," Green said in a 1991 interview.
Robert Green
Born: July 28, 1909Died: Feb. 5, 2007Education: Bachelor of Arts in painting from Carnegie Mellon University, 1931; Bachelor of Fine Arts in painting from Yale University in 1935. Studied three years at American Academy in Rome.Military career: Four years in U.S. Army's Visual Aids Unit from 1941 to 1944Career: Art professor at Kansas University from 1946 to 1979Family: Married Miriam Berg in 1965; she died in 2000. Two sons, Robert B. Green Jr. of Springfield, Mo., and J. Bryant Green of Cedar Rapids, Iowa; one step-daughter, Missy Hamilton, Lawrence.Services: Were Saturday. The family suggests memorials to the Good Samaritan Fund at Presbyterian Manor, sent in care of Warren-McElwain Mortuary.
He received bachelor's degrees in painting and fine arts from Carnegie Mellon University and Yale University, respectively, in 1931 and 1935. He studied three years at the American Academy in Italy before serving in the Visual Aids Unit of the U.S. Army during World War II.
After spending a year working for the Columbus, Ga., school district, a friend suggested he apply for a faculty position at KU. He was hired in 1946 and remained at the university until his retirement in 1979.
Through the years, his works ranged from cubist art to landscapes.
"It wasn't my intention to see just how varied I could work," he said in 1991. "That was the least motive in my mind. I suppose my curiosity took me along various lines, which created a basis for an idea that I had that I wanted to see through and I felt I was able to do."
Hamilton says the highlight of her father's career came in 1995, when the Smithsonian Institution decided to acquire eight of his works for its American Art Museum collection.
Among those chosen were "Palinello," a painting of a clown; another painting; and six works on paper, both drawings and watercolors.
"We like to represent a lot of great artists, not just those in New York," says Betsy Broun, the American Art Museum's director. "We try to be on top of people throughout the country."
Broun knew Green through her time at KU. She was a doctoral student here in the 1970s and was curator of prints and drawings at KU's Spencer Museum of Art from 1976 to 1983.
"He was a wonderful teacher, and was really able to convey up front that he was on your side," Broun recalls. "He wanted you to succeed. He wasn't judgmental. And then later, looking at his marvelous watercolors, his heart must have sunk when he looked at the beginners like me."
Green's works also are in the permanent collections at the Spencer Museum, at the Yale University Art Gallery and at the Carnegie Museum of Art.
His work was the focus of a major exhibition in 1991 at the Lawrence Arts Center.
Ann Evans, director of the center, says she remembers the day she introduced Green to two other famous artists from the area: Bob Sudlow and Elizabeth Layton. The three hit it off immediately.
"That was really fun to be able to have that connection," Evans recalls.
Evans says Green always was generous, donating his works to benefit local arts organization.
She says she has two of Green's paintings in her own home.
"A lot of people really like the style of work," Evans says. "It's wonderful to have in your home. It's very livable."
Copyright 2018 The Lawrence Journal-World. All rights reserved. This material may not be published, broadcast, rewritten or redistributed. We strive to uphold our values for every story published.