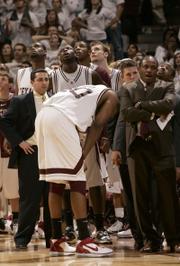 College Station, Texas — Even the imperious Bob Knight knows when to step aside and let his team take control.
Knight chose not to take a timeout with 6 seconds left, the game tied and his Red Raiders with the ball.
And it paid off.
Jarrius Jackson hit a jumper at the buzzer to give Texas Tech a 77-75 win over No. 6 Texas A&M; on Tuesday night, ending a five-game losing streak.
"I think it would have been a hell of a mistake if we'd have called timeout because we'd have never gotten a break like that," Knight said. "I didn't call timeout and that's why these kids deserve an awful lot of credit for getting it in and getting it down the floor."
Acie Law tied the game with a three-pointer from the top of the key with 6 seconds left, before Jackson drove the length of the court and pulled up for the winning score. The crowd sat in stunned silence for a few seconds while officials looked at a replay of the basket before declaring it good.
The win is Tech's second of the season over the Aggies and they remain the only Big 12 team to beat A&M; (21-4, 9-2 Big 12) this season.
The Aggies are still first place in the Big 12, but will fall into a tie if Kansas University wins its game at Colorado at 8 tonight.
Nebraska 74, Kansas St. 63
Lincoln, Neb. - Aleks Maric scored a career-high 41 points to lead the Cornhuskers past the Wildcats.
Maric's 41 points is the most ever scored by a Husker in Lincoln. It is one point short of the Nebraska school record set by Eric Piatkowski against Oklahoma in the 1994 Big Eight Tournament and two short of the Devaney Sports Center mark set by Southern California's Harold Miner in 1991.
Nebraska (15-9, 4-6) took a six-point halftime lead on Marcus Perry's buzzer beating three- pointer, and opened that advantage to 40-28 on Maric's layup with 15:52 left.
Kansas State (18-8, 7-4) cut the lead to six on Cartier Martin's jumper that made the score 48-42 with 10:07 left.
Iowa State 58, Oklahoma 51
Ames, Iowa - Jiri Hubalek scored 13 of his career-high 26 points during a 20-2 run that gave the Cyclones an early lead, and Iowa State held on to snap the Sooners' four-game winning streak.
Mike Taylor added 12 points and six assists for the Cyclones (13-12, 4-7 Big 12), who won for the second time in nine games.
Oklahoma (15-9, 6-5) couldn't quite overcome a rash of early turnovers and cold shooting and saw its NCAA Tournament hopes take a hit.
Copyright 2017 The Associated Press. All rights reserved. This material may not be published, broadcast, rewritten or redistributed. We strive to uphold our values for every story published.