Pulse readers shared a number of entertaining tales as part of the Journal-World's "Memorable Dates" contest - there were chummy fishing trips and hay rides, a few cases of love at first sight, and the blind date who got away.
William Pickering, Lawrence
My wife has created some very delightful "dates" to celebrate our wedding anniversaries. We have enjoyed 41 anniversaries together so far.
One of the more recent ones emerged after our accepting that, for financial considerations, we would stay at home, enjoy a meal together and perhaps play some board games or cards. That seemed to be fine with both of us. I had to work that day and evening where I was employed in a part-time maintenance position, and I was delighted to receive an anniversary card from my supervisor which my wife had given to him for me. She recalled some of our early dates, and she reminded me that she had kissed me first since I was making no progress in that direction after five consecutive dates.
My supervisor congratulated me, then indicated there were several tasks he wanted me to address on my work time for that day. One he pointed out first was to replace a bulb in a ceiling fixture in one of the residential areas. I set up the ladder, and about halfway up I noticed something hanging down from the ceiling. As I pulled it from the tape on which it hung, I realized it was another card from my wife. She recalled the birth of our children, the bump in the street that we thought surely would speed the delivery, and how we raced a drunk from one stoplight to the next; he stopped on red, we did not stop, yet he caught up each block as he reappeared from the cloud of smoke which he left behind.
This memory lane in the cards was a good experience since my wife and I have made many good memories in our marriage which we enjoy remembering on occasion. I felt a growing warmth and delight as I shared what was happening to me with the residents and other staff. Now I heard my name announced over the intercom with the request that I appear in another area of the facility where something needed to be fixed. Off I went, assuming that the string of cards and memories had come to an end with the advent of this current request.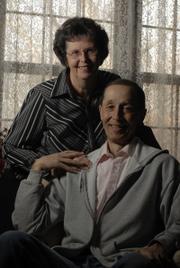 Yet as I arrived to the task mentioned over the intercom, I noticed another card tucked away nearby. Another card from my wife was there, and she remembered some of our more recent memories and a few miracles with which we played a part, like the time the doctor told us our daughter had only two years to live and now 18 years had passed with no remission. I felt tears welling up; warm memories were awash in my mind; I had spent the entirety of my shift realizing how lucky I was to have such a thoughtful and loving spouse and how I was so grateful for my family.
These thoughts were ripe in my mind as I stepped in the door of our home and embraced my wife. I was so overwhelmed with the card shower and my wife's words. These are memories I love to remember. I am so blessed to share the life we have had together all these years.
Bob Lewis, Lawrence
It was June, 1944, and I was in the Army Air Corps stationed at Lackland Air Base, Waco, Texas. Because we were shipping out to College Station the next morning, my outfit was restricted to base. A buddy of mine and I faked a laundry list to look like an off-base pass and slipped out to town, where there was a dance at the YMCA. It was there that this city boy met a beautiful statuesque blonde from a farm in Minnesota.
For me it was love at first sight.
The next day, we shipped out to College Station. Every weekend thereafter, my buddy and I hitchhiked 92 miles to Waco to visit Verla and her roommate. We did this until I was transferred to SAC at San Antonio. About three months after we met, Verla and I took the train to Oak Park, Ill., and were married Aug. 6, 1944.
Sixty-two years have passed, and we have been blessed with 10 children, 24 grandchildren and four great-grandchildren, with another on the way.
Sometimes it pays to break the rules. Life has been good.
Carolyn Bailey Berneking, Lawrence
A true story: Though the younger generation doesn't believe it exists, I know it does.
My story began on a blind date when I was a freshman at KU in 1935. Sororities at that time saw that their freshmen meet the young men in fraternities, so my sorority sister got me a date with her boyfriend's roommate, Christian Louis Berneking. From the moment our eyes met, it was magic, head in the clouds kind of magic. That evening after the date, I wrote in my diary I met the man I was going to marry. When my date got back to his room, he kept asking his roommate my last name. Finally he said, "Oh, never mind, I'm going to change it anyway."
As all fairy tales end, from that moment on, we lived happily ever after.
K.J. Bost, Lawrence
His name was Feekra Boogio, Boogie Baby to his friends. My friend said he was from Greece and rich. He attended KU and lived at the dorm. A red light should have went off there: Living at the dorm, no car, but rich?
The name alone interested me, and I imagined a Greek god with handsome features and a bright smile and tons of thick, curly hair. Pulling up to the dorm, I could see that the smile was brilliant but the hair almost nonexistent. Snappy dresser? He had tennis shoes with dress pants, a trench coat buttoned up to his neck and the smell of cheap cologne that you could smell for miles.
Lucky for me, we picked him up in my friend's truck.
I was all for sitting in the bed. But Boogie said no, lovely lady, sit on my lap. We had a very quick dinner and went back to the dorm, even though Boogie Baby wanted to go out dancing to show us girls his fantastic moves. We dropped him off, and I got away with a kiss on the head - and no exchange of phone numbers!
Angie Crist
Our date was Feb. 20, 1991. We decided to run away and get married. Since it was the second time for both us, we didn't want to make a big deal out of it to our families and friends.
Before we left, we made the mistake of telling my 11-year-old son we were going to Miami, Okla., to ... fish! Our plan was to leave on Thursday, get to Miami, get married on Friday and get home on Sunday. That was the plan, anyway.
Around Fort Scott, the car began to make noises, and before we made it out of town, it quit. As we sat along the side of the road, me in tears, and my husband-to-be talking to the cows in a nearby field, a nice farmer stopped to offer help, and then hauled the car and us into town. We left the car at a repair shop and walked a few blocks to get something to eat. On our return, we were told that the car needed a part that they couldn't get until the next day. We found a motel within walking distance and stayed the night. Finally, late Friday we were on our way. Too late for Miami, we decided to make a run to Eureka Springs. My brother owned a restaurant and seemed to know "everyone" in town, so maybe he could help us.
By the time we got there, they had called our home and found out about our "fishing trip," figured out what we were really doing and began clapping when we entered.
In tears, I told our sad story and explained that we were not married. Saturday morning, my brother took us to city hall; he had called a "friend" who was kind enough to open the site and issue us a license. At 3 p.m. we were back at the restaurant, where he had a minister, wedding cake and flowers waiting for us. There also was a group of people we had never met in our lives, but they all seemed to enjoy the ceremony. Finally, at last, we were married!
Six months later, we went back to Eureka for a visit. As we sat having dinner, an older couple seemed to be staring at us. Finally I made eye contact with the lady, and with a big smile, she winked and said, "It's nice to see you both. We were at your wedding!"
Michele Johnson
We met at an association meeting. Dave introduced himself to me when I sat down next to him. During a break we had coffee and made small talk. We talked a bit about what we like to do and Dave told me he likes to fish. "So do I," I stated. "Where do you fish?" "At Saylorville Lake or an occasional trip to Canada," Dave told me. I proudly announced that I like to fish also and I could back a boat. Something a lot of women do not lay claim to.
We saw each other off and on through-out that spring and summer. At the August meeting I sat down next to him again and we made small talk. As the meeting started we were like two young kids in high school. We didn't pay any attention to the meeting in progress and passed notes back and forth to each other. Dave finally asked me for my phone number. He promised to call later that week and we made a date to go fishing the following weekend.
Dave did call and we finalized the plans. He picked me up to go fishing. I could bait my own hook and take the fish off. When Dave landed a catfish he tried to shake if off the hook with a pair of pliers and I showed him how to hold it without getting stung by the barbs of the catfish. He held it up for a photo opportunity.
When the day on the water was coming to a close, he dropped me off at the dock, handed me his truck keys and wanted me to prove my claim. I skipped up the parking lot to his truck and made my way down to the water with the boat trailer. I was able to turn it around and back the trailer into the water without incident. Dave drove the boat onto the trailer as I smugly looked on; very proud that I had proven my value.
A year later we were married and often take fishing trips where we try to 'outfish' one another.
G. Wayne Parks, Lawrence
My most memorable date started in a wheat field meeting that ended in marriage and 53 years of faithful love:
53 years of
Hugs and kisses
Joys and pains
Happy tears
Tears of pain
Faithful giving
Sharing faith
Through
Good times
And
Not so
Good times
But
Always together
Supporting
Each other
And
Others
As God intended.
I first met my future wife in a wheat field in July 1943. Her family lived in Arizona, and she was visiting her aunt and uncle, who were my family's neighbors. Her cousin and I harvested wheat all day.
Our clothes were sweaty and dusty. The uncle came back in his car to pick us up and take us home. As I opened the door of the car to get into the back seat, there sat this dark silky haired, sparkling blue-eyed, dimpled, smiling, beautiful 17-year-old girl. Like a wildflower in bloom. Love at first sight, maybe?
I closed the door of the car, careful so not to touch her clean dress with my sweaty, dirty clothes. Neither of us probably thought of meeting again.
In June 1945, I got a call form the cousin. There is a carnival in town we can go to. I dressed in my good clothes. When he arrived, the front seat was occupied by another young man. I opened the back door, and there to my surprise sat that same young girl I had met in 1943. Her family had moved back to Kansas.
At the carnival, we managed to lose her cousin and brother in the crowd and spent the night holding hands and hugging each other on the carnival rides.
On the trip to Topeka, where her parents were renting an apartment, I put my arm around her, and she laid her head on my shoulder.
As her cousin parked the car, she raised her head, and our lips met in our first kiss.
After a few weeks I proposed marriage, but she turned me down. She wanted to finish her education and become a professional woman.
I did not ask again. We just kept seeing each other. Her parents had bought a house in Lawrence.
Then it happened on a cold night in December 1945 as I prepared to leave her parents' house. She wrapped her arms around my neck, looked into my eyes with those sparkling blue eyes, and from those vibrant red lips came the remark I had waited for: "When are you going to marry me?"
We were married June 6, 1946, and Mildred "Midge Hays" became Mrs. Mildred Parks. Not the professional woman she planned on.
But she was a full-time housewife, my office manager, friend, lover, partner and mother of and to my seven daughters, a volunteer for family, God, church, country and community.
'Til April 29, 1998, when God chose to take her back into his care!
Lynn and Carol Sheppard, Class of '59, Piper High School
Carol Bettis and I met in the eighth grade in Piper, Kansas in 1957.
We were good friends but never had any romance until our senior year. We have been married 46 good years and have two fine sons, great daughter-in laws and 5 grandkids.
One of our first dates was a unique country kid outing in the fall of 1958. One of the sons of a local farmer loaded an old International wheat truck with straw. My date and I climbed over the grain racks and joined a bunch of other high school couples for a jolly Saturday night tour of northeast Kansas. We snuggled in the straw to avoid the chilly wind and sang our way through the night. We cheerfully chugged through every one of our rival school towns yelling our fight songs and taunting our Friday night opponents. No modern day kids in a fancy stretch limo could have more fun than we did on that crisp October night.
Copyright 2018 The Lawrence Journal-World. All rights reserved. This material may not be published, broadcast, rewritten or redistributed. We strive to uphold our values for every story published.