Chad Esslinger fell for his sweetheart last fall.
He fell - skydiving from an airplane - some 14,000 feet through the air.
His sweetheart is Tonganoxie native Kelly Breuer, 21, who had been skydiving previously in Oklahoma City and wanted to go again.
The Sept. 30 jump, though, wasn't the most thrilling point of the day.
As Breuer made it closer to land, she spied a large white sheet on the ground.
In black paint, a makeshift sign read: "Kelly, Will You Marry Me?"
At an airport near Kansas City, Mo., the couple opted for tandem jumping, which means one person is strapped on the back of another. They both had skydiving professionals on their backs, with Breuer's guide deliberately moving her toward the sign.
"What's that white square down there?" Breuer asked her guide at one point.
A few minutes later, Breuer's guide positioned them so she could see clearly.
"I said, 'Shut up,'" Breuer recalled. "He just started laughing, and just went straight down real quick."
When the two lovebirds finally landed, Breuer didn't have an answer.
"She was pretty much speechless," said Esslinger, 24, a native of Clearwater.
When they met on the ground, Esslinger said he gave Breuer "a big hug and kiss" and proposed.
"She was crying and everything, so I pretty much thought it was a go," Esslinger said. "I got on my one knee and proposed and she said yes, of course."
Breuer embarked on her first skydiving experience about a year before the couple jumped last fall. She kept urging Esslinger to jump with her sometime.
Photo Gallery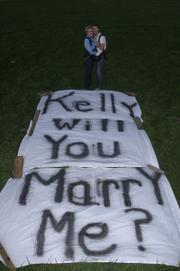 Skydive proposal
"I always wanted it to be a special event, something she would remember," Esslinger said of the proposal. "She went skydiving almost a year before and she really wanted me to do it. I thought, 'What better time to do it?'"
The couple scheduled their jump for 2 p.m., but it was delayed until 6 p.m.
Breuer, a hairstylist, was tired that Saturday because she just had the grand opening for her salon in Kansas City the day before.
"She was getting pretty sour with the four-hour delay," Esslinger said.
Once they were in the air, airport workers unfurled the sign for the couple's return.
"It was pretty stressful setting it all up, but I think it all worked out," Esslinger said. "I was so scared. There were two different types of fear there, the jump and the proposal."
Breuer remembered her now-fiance being extremely affectionate that day.
"Chad was trying to hug me and at one point I remember saying, 'What's with the hugs today,'" Breuer said about a conversation on the plane. "All the jumpers knew about it. He didn't want them to think I hated him, or that I was going to say no."
The proposal came to fruition and, in the process, Esslinger got a handle on his fear of heights. He said once he jumped out of the plane, he was in good shape.
"Jumping out of an airplane is crazy," Esslinger said. "But I'll do it again, though."
Esslinger and Breuer met in September 2004, when they both were Kansas State University students. The couple now live in Shawnee. While Breuer manages her salon in Kansas City, Mo., Esslinger works at a title company in Basehor.
They're planning an Oct. 20 wedding in Parkville, Mo.
The couple said today would be a fairly low-key Valentine's Day. Skydiving won't be on the menu.
"I can't top myself now," Esslinger said.
Copyright 2018 The Lawrence Journal-World. All rights reserved. This material may not be published, broadcast, rewritten or redistributed. We strive to uphold our values for every story published.