Texas Tech coach Bob Knight wrote a letter last year unlike any other he had penned in four decades of recruiting.
He addressed it to a judge, not a basketball prospect.
Head coach designate Pat Knight said his father vouched for the character of Benny Valentine. The 5-7 point guard had a court hearing in his hometown of Omaha, Neb., to be sentenced on two felony charges less than three weeks after he signed with the Red Raiders in April.
Valentine, a sophomore transfer from Howard (Texas) College, was sentenced to three years of probation and 60 days in the Douglas County jail for possession of a stolen gun and his role in a carjacking. He left for Lubbock immediately upon his release after 43 days.
"It never really bothered us," Pat Knight said of Valentine's legal troubles. "We checked into it and talked to the kid. He was up front with us. He's a good kid who made a dumb mistake."
Pat Knight said Valentine is the only player with a criminal record his father has recruited. Valentine has made a minimal contribution on the court for Tech. But his parents said he is flourishing under the direction of Bob Knight, a taskmaster whose players' graduation rates are as impressive as his teams' winning percentages.
"He needs that firmness," said Kim Lessley, Valentine's mother.
Bob Knight declined a request via team spokesman Randy Farley to be interviewed for this story and did not respond to e-mailed questions.
Knight's commitment to discipline has been well chronicled. This is not a case of the NCAA's all-time wins leader sacrificing his principles to recruit a star.
No Division I program showed serious interest in Valentine while he played for Omaha Central High before his arrests, although he was a full academic qualifier. He is averaging 3.6 points in 12.8 minutes per game for Tech and hasn't played in six of 10 Big 12 games.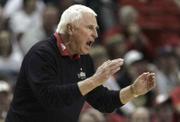 Pat Knight said Valentine's toughness and intensity during practice have been his biggest contributions, but Valentine was one of four players left in Lubbock for Saturday's game at Oklahoma State. The Red Raiders fell in double overtime.
"Benny's had a tough adjustment to make to this level of play," Bob Knight said on last week's Big 12 conference call. "He's a good kid and he works hard at what he's doing, but this is the first time he's been exposed to this type of competition."
Valentine pleaded no contest and was found guilty of charges of possession of a stolen firearm and accessory to a felony. The Class IV felonies, which each carried a potential sentence of five years in prison, stemmed from incidents that occurred a week apart during the spring of Valentine's senior year of high school.
Howard College coach Mark Adams said he stopped recruiting Valentine after the arrests. But Adams' assistants kept in contact with Valentine and persuaded Adams to talk to him when a scholarship opened up in August 2005.
Adams agreed to give Valentine a scholarship after an emotional phone call. Adams recalled Valentine pleading for a second chance and promising that the coach wouldn't regret it.
"You could tell he was speaking from the heart," Adams said.
Adams said he was reluctant to suggest that Tech recruit Valentine because of Bob Knight's no-nonsense reputation and Valentine's criminal record.
Tech coaches asked about Valentine after they went to watch prized recruit Charlie Burgess, Valentine's backcourt partner at Howard who had already signed with Tech.
They were impressed by Valentine's competitiveness and toughness, traits the coaches thought last season's Red Raiders lacked. Adams said the Knights "interrogated" him while determining whether Valentine would be a good fit for their program.
Copyright 2018 The Lawrence Journal-World. All rights reserved. This material may not be published, broadcast, rewritten or redistributed. We strive to uphold our values for every story published.