Kansas coach Bonnie Henrickson wasn't exactly pleased Texas scored 20 of its 29 first-half points in the paint last Saturday.
"I said if you're going to stand there in the paint, at least hold hands and sing Kumbaya," Henrickson said. "Defensively, we had to protect the paint."
The Longhorns had only 12 points in the paint in the second half. Kansas literally pulled off a last-second game-winner, courtesy of sophomore guard Ivana Catic inbounding to a wide-open Shaquina Mosley underneath the basket for a layup as time expired.
After such a remarkable victory, Mosley thought it'd be a good idea to play a joke on coach.
"When she walked into the locker room, we were all holding hands and singing Kumbaya," said Mosley, a senior guard.
The victory in Austin, Texas, was KU's second straight Big 12 Conference victory, after starting the conference season 0-9. Kansas (8-16, 2-9) will put its winning streak on the line at 7 tonight against archrival Missouri (14-10, 2-9 Big 12) in Allen Fieldhouse.
"It wouldn't matter if both teams were 11-0 or 0-11," Mosley said. "It's Missouri. Every basket is that much more important."
It's no secret Missouri can score. The Tigers are fifth in the Big 12 in scoring offense, and second in three-point field goal percentage.
"It makes it tougher for us, because we're not going to win a shootout," Henrickson said. "They're a lot like us. Their record is not indicative of where they are as a team."
Missouri has four players - EeTisha Riddle, Tiffany Brooks, Alyssa Hollins and Carlynn Savant - averaging double-digit point totals. Riddle, a senior forward, leads the Tigers with 16.2 points per game. Only freshman guard Kelly Kohn averages in double figures for Kansas.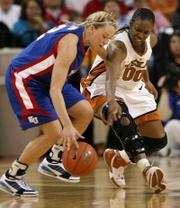 Despite Missouri's offensive ability, it has struggled on defense. The Tigers rank second-to-last in the conference, giving up 65.4 points per game. Kansas ranks 10th, giving up 63.6.
Kansas enters tonight's game riding the momentum of its last two victories, which have been by a combined three points. Mosley hit game-winners in both of them.
In the Texas game, Mosley initially had her shot blocked as time nearly expired. After the referees gathered, they put 0.4 ticks left on the clock - just enough for Catic and Mosley.
"Anything over 0.3 (seconds) and she could come down with it," Henrickson said of Mosley. "It probably magnified the season we're having. These kids still have the competitiveness and pride in the program when it would have been easy to call it quits."
The play was actually designed for freshman forward Danielle McCray, who rolled off a pick to the right sideline. However, two Texas defenders followed McCray, leaving Mosley open near the basket.
"I didn't think I'd be that wide open," Mosley said. "We started screaming and my teammates ran off the bench. They had to review it and the ref signaled the basket counts, so we started screaming all over again."
Sophomore forward Marija Zinic missed six straight games with a leg stress fracture before seeing only seven minutes against Colorado Feb. 6. Zinic didn't play against Texas last Saturday. She's questionable tonight against Missouri.
"She needs to be consistent before we throw her in," Henrickson said of Zinic. "The pain seems to be more manageable. She's been doing half-court for a long time, and full-court the last couple days."
Copyright 2018 The Lawrence Journal-World. All rights reserved. This material may not be published, broadcast, rewritten or redistributed. We strive to uphold our values for every story published.