CHAPEL HILL, N.C. — Virginia Tech topped North Carolina for the second time, after previously upsetting Duke. Maybe the Hokies should push for an extension of Tobacco Road.
The Atlantic Coast Conference newcomers are making a habit of upsetting the league's traditional powers, with Zabian Dowdell scoring a career-high 33 points Tuesday night in an 81-80 overtime victory over No. 4 North Carolina which sealed an improbable season sweep of the Tar Heels.
"Something special brewing around the program," Dowdell said.
Dowdell and Deron Washington combined to stop Ty Lawson cold in the final seconds of overtime and preserve the victory for the Hokies (18-7, 8-3 Atlantic Coast Conference), who gave their NCAA tournament hopes a significant boost with another road victory against a Top-5 team.
"Probably the understatement of the day is (that) I couldn't be more proud of our team," Virginia Tech coach Seth Greenberg said.
Markus Sailes gave North Carolina one last chance when he missed two free throws with 7.1 seconds left. Lawson rushed down the court and took a quick shot which was tied up by Dowdell. Lawson got the rebound and shot again from the lane, but Washington swatted it away.
Tyler Hansbrough had 22 points to lead North Carolina (22-4, 8-3), while Ellington had 14 and Lawson finished with 13.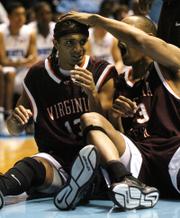 No. 13 Butler 79, Florida Gulf Coast 65
Indianapolis - Mike Green scored a career-high 24 points, A.J. Graves added 22 and the Bulldogs won their 22nd straight game at home.
The win by Butler (24-3) snapped a school-record 14-game winning streak by the Eagles (22-6), an NCAA-Division II team that will move up to Division I next season, joining the Atlantic Sun Conference.
No. 16 So. Illinois 51, Missouri State 47
Springfield, Mo. - Randal Falker scored 20 points and grabbed 12 rebounds to lead the Salukis.
Southern Illinois (22-5, 13-3 Missouri Valley) extended its winning streak to eight games.
Missouri State (19-8, 10-6) saw its five-game winning streak end.
Tyler Chaney led Missouri State with 13 points.
Tennessee 89, No. 20 Kentucky 85
Knoxville, Tenn. - Chris Lofton scored 23 points to help the Vols spring the upset.
Tennessee (18-8, 6-5 Southeastern Conference) had plenty of motivation with the school's big promotion of the game - "Paint the Town Orange" - and a halftime ceremony to retire No. 53 worn by former All-American and NBA All-Star Bernard King.
The Wildcats (18-7, 7-4) had won 10 of 11 against Tennessee and four straight in Knoxville.
Copyright 2018 The Associated Press. All rights reserved. This material may not be published, broadcast, rewritten or redistributed. We strive to uphold our values for every story published.