Jessica Wiles was growing tired of the suspense.
The Tonganoxie native left Christmas Day for Europe to visit her boyfriend, Lance Sheldon, who is a civilian working in telecommunications through Fort Riley. He has been working in Iraq since last July.
Before Wiles left, her parents, Ted and Kim Wiles, had strict instructions for her: She needed to carry a package in her backpack and not open it until she was with Sheldon.
The couple met in Germany and traveled elsewhere in Europe before arriving in Venice, Italy.
On New Year's Eve, the couple planned to eat at a nice restaurant.
"He decided he wanted to bring this package with him to dinner," said Wiles, admitting that she found it odd they were going to open this gift at a restaurant.
During the meal, Sheldon opened the package and pulled out a smaller box.
Inside was an engagement ring, and Sheldon popped the question on the spot.
And, of course, Wiles said yes.
"I was thinking, those guys are so scandalous," Wiles said. "They had it planned to the T."
But it took some work.
Sheldon had been in contact with a Manhattan jeweler last year about purchasing the ring, but was deployed to Iraq in July.
He later contacted Wiles' parents about his intentions.
Photo Gallery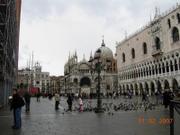 Venice proposal
"They both said they had been talking about it and wondered when I was finally going to ask the question," Sheldon said in an e-mail sent Saturday from Iraq. "So, I had their blessing, which made me happy they agreed. I then asked them if they would be able to help me obtain the engagement ring if I purchased it."
On a visit last year to Manhattan to see their daughter, Ted and Kim Wiles stopped by the jewelry store.
Of course, getting an engagement ring from Kansas to an overseas destination is no easy task.
"They went through other processes," Wiles said. "They tried to send it to Iraq and no one would insure it; no one wanted to come close to touching it."
So they went with plan B - wrapping it up and sending it with her.
The couple haven't set a wedding date because it depends on how long Sheldon will be in Iraq.
But Sheldon proves that a long-distance relationship can be full of surprises, including on Valentine's Day.
He said in his e-mail that two dozen blue roses were to have arrived Tuesday in Manhattan - about the time he would be waking up on Valentine's Day in Iraq.
"I figured I would send them to her so I would be able to have a nice Valentine's Day surprise in the morning," he said.
He also has purchased a blue diamond solitaire necklace to go with her engagement ring and a pair of earrings. The necklace has been hidden since June at their home in Manhattan, where Wiles is studying architecture at Kansas State University.
"I will tell her Valentine's Day morning where the present is, which will be really funny."
Copyright 2018 The Lawrence Journal-World. All rights reserved. This material may not be published, broadcast, rewritten or redistributed. We strive to uphold our values for every story published.