Ein Alaq, Lebanon — Bomb blasts killed three people Tuesday on commuter buses and lawmakers blamed Syria, stirring fears of clashes between Hezbollah and government supporters at a massive rally planned to mark the assassination of Lebanon's former prime minister.
The explosions stoked fears of more turmoil as an already tense Lebanese capital braced for today's commemoration for Rafik Hariri. A huge rally was planned at his grave - just feet from ongoing opposition protests seeking to topple the government.
Lebanon has been hit by a string of bombings the past two years that many government supporters blame on Syria.
Syria has denied any role in the attacks, including the suicide truck bombing that killed Hariri and 22 others on Feb. 14, 2005.
After Tuesday's blasts, the pro-government majority coalition in parliament said in a statement that it holds "the Syrian regime fully responsible for this despicable crime." It accused Syria of trying to "make Lebanon another Iraq by destroying its security and stability."
The coalition also pointed a finger at Syrian-backed Hezbollah and called for beefing up security on the border with Syria "to halt the flow of arms to subversive groups directly linked to (Syria's) regime."
The bombs Tuesday ripped through two commuter buses traveling on a busy mountain highway northeast of Beirut, killing three and wounding 20, police said.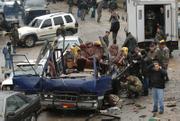 Witnesses at Ein Alaq, a village in pine-wooded mountains a 30-minute drive northeast of Beirut, said the first bomb exploded in a bus around 9 a.m. As people rushed to the scene, a second explosion, about 10 minutes later, tore through a second bus that had driven up.
The buses were carrying people to work, and witnesses said they pass at 10-minute intervals, ferrying people from Christian mountain villages to the coast and Beirut while stopping along the way for whoever hails them or wants to get off.
Pro-government groups said the attacks were intended to scare people away from today's rally for Hariri, who was an opponent of neighboring Syria's interference in Lebanese affairs. They were adamant the gathering would not be canceled.
"We will hunt down the criminals and confront them," the U.S.-backed prime minister, Fuad Saniora, vowed in a televised speech Tuesday. "We will not back down in our search for truth. We will remain intent on preserving national unity."
The blasts have fueled tensions amid Lebanon's escalating political power struggle, in which the opposition, led by the Syrian- and Iranian-backed Hezbollah, has vowed to bring down Saniora's government.
President Emile Lahoud, a staunch pro-Syrian who has sided with the opposition, said the bombings sought to undermine efforts to reach compromise between bitterly split Lebanese factions.
Copyright 2018 The Associated Press. All rights reserved. This material may not be published, broadcast, rewritten or redistributed. We strive to uphold our values for every story published.