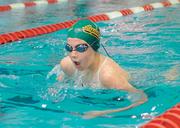 The Lawrence Indoor Aquatic Center was packed Saturday as hundreds of young swimmers from Lawrence, Topeka and the Kansas City- metro area competed in the Mid-America League Championships.
Children under the age of 12 swam in butterfly, breaststroke, backstroke and freestyle races and relays in the morning, and competitors aged 13-and- older did the same in the afternoon. Mike Soderling, coach of the Lawrence Aquahawks, said the event was the last one for the team before upcoming sectionals and divisions.
"Our biggest meets will be at the end of March," he said.
Soderling said he was happy with the overall performance of all the Aquahawks and added that the swimmers benefited from some newly installed diving platforms the city bought for the Indoor Aquatic Center. "We're already seeing that help our times," Soderling said. "Especially in the shorter races." Soderling said, the Aquahawks - comprised of about 200 swimmers from the ages of seven to 18 - are trained to shine in all kinds of events. "We pride ourselves in being good at everything," he said. "There are four strokes - butterfly, breast stroke, back stroke and freestyle - and being young, we try to train them in everything and then specialize later. "We like to think of ourselves as an 'I.M.' team," Soderling said. "Meaning individual medley or all four strokes."
Emma Reaney, a 14-year-old swimmer from Lawrence said team members learned more than just swim strokes.
"I don't think any of us would be the same people without the Aquahawks," Reaney said. "Because of the friends that we've made and all the stuff that we've learned, not just about swimming but also about discipline."
Sixteen-year-old Aquahawk Molly Albrecht of Lawrence said she enjoyed the unique camaraderie swimming provided.
"Even though we're competing against each other we always want our other teammates to be fast," Albrecht said.
Another perk for Aquahawk team members was the opportunity to see some swimmers they look up to compete in person.
This weekend many of the older swimmers will be in Columbia, Mo., for the Missouri Grand Prix Swim Meet. "There's going to be a whole bunch of Olympians there, so I'm really excited," said Caitlin Gallagher, 17, of Lawrence.
"They'll be swimming in the same events as us because it's an open," Reaney said. "That'll be real exciting."
Copyright 2018 The Lawrence Journal-World. All rights reserved. This material may not be published, broadcast, rewritten or redistributed. We strive to uphold our values for every story published.