He may not be able to block shots or put down monster dunks - let alone touch the rim - but Seabury Academy's Ryan Gutierrez does what's necessary for a high school point guard.
He makes crisp passes - when he feels like dishing the ball - and can rain three-pointers, which he does often.
"Once he decides he wants to pass it, he can pass it pretty well," Seabury senior Scott King said. "But when he penetrates and doesn't really know what he's doing, he'll sometimes jump up and make some crazy layup."
The "oohs" and "ahhs" Gutierrez draws from the crowd give an idea of how good his ball-handling skills are.
Gutierrez has pretty much every attribute a basketball team would need from a senior point guard.
But the kicker is Gutierrez is just a freshman. And an undersized freshman at that.
He's listed at 5-foot-4 in the Seabury game program, which Seahawks coach Matthew Downing Jr. said was generous.
"A lot of people underestimate me, and they think I'm not very good," Gutierrez said. "People just look down on me, and I guess I just surprise them sometimes.
"But whatever I do just comes naturally. I don't really think a lot until it actually happens or after the play occurs."
Gutierrez doesn't just run the high-powered Seabury offense, he also enjoys playing a little defense.
"I think he leads the team in taking charges," Downing said. "He's not afraid to get in there, scrapping, taking chances. And for the most part, it doesn't hurt us - the chances that he takes. He's real selective as to when he's going to go for a steal or jump out there and take a charge."
And by no means is Gutierrez afraid of taking charges, even against players a foot taller than he is.
"I absolutely love taking charges," Gutierrez said. "People get excited and they get out of control and you step in - it's a good feeling. You realize that the play is going the other way. ... And it only hurts for a little while."
Teammate Max Cannon has also received first-hand experience when it comes to Gutierrez's defensive abilities.
"On the third day of practice coach had me and him (Gutierrez) go one-on-one and I hated it," Cannon said. "He's so small I couldn't get the ball from him, and he stole from me like 20 times and I didn't touch the ball once. ... It was the most embarrassing thing and I was like, 'I hope we never do that again,' because I just hated it - I was just getting schooled."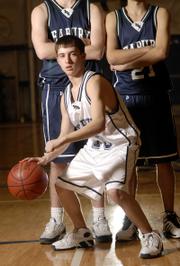 With Seabury bringing in a rookie head coach this winter in Downing, it was evident that at the start of the season every position would be up for grabs.
"I didn't have a problem playing a freshman, sophomore, junior or senior - it doesn't matter to me," Downing said. "Just put your best five out there and let's toss it up.
"I don't think of him as a freshman anymore. I don't realize it until people bring it up."
His teammates still know that he has to do a little extra work off the court, being the low man on the chain.
But King quickly conceded that team manager Philip Anderson is usually the one that puts the freshman to work.
"He (Anderson) kind of likes to delegate his duties out to the freshman," King said.
But apparently, Gutierrez isn't always compliant to the upperclassmen's orders.
"We'll tell him to do something, but he'll just tell (freshmen) Dan (Simons) or Chris (Parker) to do it and he'll just be like, 'I'm playing, you can go get the water,'" Cannon said.
Though Gutierrez is sometimes reluctant to help with the water or shagging balls, his emergence has made things a bit easier for one senior.
"I was happy, because last year I was the point guard and I thought I was going to be the point guard this year," Cannon said, "and I just got a big load off my shoulders real fast."
Cannon was interchanging with another point guard, who has since graduated, and King thinks Gutierrez has fit into the flow rather nicely.
"I was a little bit nervous at first about having Ryan because he started on junior high basketball and it's a big change," King said. "Last year, one of our main scorers was a point guard and was a big leader for us, so it was just a big role for him (Gutierrez) to fill. But he's filled it really well."
Living in a town that has one of the top men's basketball programs in the nation, Gutierrez has found plenty of inspiration for his game from Kansas University basketball players past and present.
"Aaron Miles and Sherron Collins - those are my two favorite basketball players," he said. "I have a big article on (Miles) and I read that all the time.
"And Collins is a freshman this year also and has being playing well lately. I wound up seeing him the other day and told him, 'Hi' and said he played a good game. It was pretty cool."
Copyright 2018 The Lawrence Journal-World. All rights reserved. This material may not be published, broadcast, rewritten or redistributed. We strive to uphold our values for every story published.