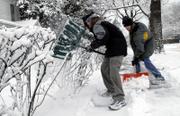 Lawrence public schools are closing today due to winter weather.
"Transportation-wise, some of the roads are not passable," said Julie Boyle, the school district's communications director.
Late in the morning, though, the district announced that:
¢ Lawrence High versus Olathe North boys' and girls' basketball will be held tonight as scheduled at LHS.
¢ Lawrence Free State High versus Shawnee Mission boys' and girls' basketball will be held tonight as scheduled at LFSHS.
¢ Wrestlers at both high schools will practice this afternoon. Coaches will inform their wrestlers of those practice times.
The Lawrence area received about four inches of snow overnight, according to Matt Elwell, 6News meteorologist.
Other area school closings today include:
¢ Princeton Children's School.
¢ Sunshine Acres Montessori.
¢ Lawrence Arts Center Preschool.
¢ Corpus Christi Catholic School.
¢ Lawrence Head Start.
¢ Eudora schools.
¢ Perry-Lecompton schools.
¢ Baldwin City schools.
¢ McLouth schools.
¢ Santa Fe Trail schools
¢ Wellsville schools.
¢ Ottawa schools.
¢ Tonganoxie schools.
¢ Oskaloosa schools.
¢ Basehor-Linwood schools.
¢ Small World International Preschool.
Other area cancellations:
¢ Lawrence Memorial Hospital 'Meals on Wheels' will not have service today.
¢ Montessori Children's House of Lawrence.
¢ Montessori Discovery Place.
¢ Douglas County Senior Services. ALL services canceled including home delivered meals.
¢ The La Leche League meeting for tonight has been canceled.
¢ Stepping Stones Child Care Center is closed.
¢ All afternoon and evening Atrium sessions held at St. John the Evangelist Church are canceled.
Quail Run Elementary School pancake night this evening is canceled and rescheduled for Thursday, Feb. 15, at the same time.
Dazzler Christian Dance, all classes Tuesday are canceled.
Other area delays:
¢ Pinnacle Career Institute - Lawrence: Opening 1 hour late.
¢ Independence Inc. - No transportation, office opens at 9 a.m.
¢ The UMW Connection Event at First United Methodist Church has been postponed until Tuesday, February 20th.
If you have a closing or postponement to announce, let us know. Send an e-mail to editor@ljworld.com, with this subject line: WINTER WEATHER CLOSING.
Copyright 2018 The Lawrence Journal-World. All rights reserved. This material may not be published, broadcast, rewritten or redistributed. We strive to uphold our values for every story published.