At a dinner party in China a few years ago, the conversation turned to how best to use acquired knowledge.
Pok Chi Lau pulled out a fortune cookie slip he kept in his wallet: "Many receive advice, but only the wise profit by it."
His son, Tyler, felt an eerie sensation. He'd never discussed it with his father, but he pulled the exact same cookie slip from his own wallet.
"I realized," Tyler Lau says, "that I may be more similar to my father than I thought."
The fortune is an appropriate synopsis of their relationship.
Pok Chi Lau is a well-known and well-established photographer and art professor at Kansas University. Tyler Lau has spent portions of his life's 18 years traveling the world with his father, learning both an inclusive view of the world and how to best capture that world with a camera.
Now a Lawrence High School senior, Lau is starting to establish a reputation of his own with his photography.
He recently was chosen as one of eight winners in photography for the National Foundation for Advancement in the Arts youngARTS program. The award included $1,500 prize and a week trip to Miami, learning from a panel of professional photographers.
But Lau says he doesn't do photography to make a name for himself. He's more interested in helping explain the world to people, to promote peace and to break down stereotypes.
"These are things that can't be taught with books," he says. "It's hard to make those connections. I hope my photos will, at least, spark an interest in them to learn more."
Not 'picture-perfect'
Lau's first trip with his father was to Hong Kong and Malaysia. He was only months old.
Since then, he's gone on summer trips with his father, and he spent a year in kindergarten traveling the world and attending foreign schools. He's visited more than two dozen countries.
While tourists flock to the landmarks, Pok Chi Lau and his son sought out the poor residents - those with a story to tell through pictures.
"My dad travels so much around the world, seeing the things regular people - tourists - don't see," Tyler Lau says. "If you look at the world as picture-perfect, you may not like what you see."
Lau started fiddling around with cameras when he was 7 or 8, but he didn't own his own camera - a digital point-and-shoot - until about a year ago.
He usually borrowed equipment from others. His father wanted him to learn to be resourceful, and not to use a lack of expensive equipment as an excuse for not taking good photographs.
The message
Many of Lau's photos are diptych images, meaning they have two parts. In his case, they include two separate photographs that relate to one another - often in juxtaposition, but always providing commentary on one another.
Examples of the issues examined in his photograph pairs:
¢ American expansion. One image shows a KFC sign near an ornate Chinese building, the other a "Stop Bush" stencil on a Roman sidewalk.
¢ Consumerism vs. historic culture. One image shows a billboard of an Italian model hanging near a stone statue, and another showing a poor Italian woman near a giant edifice.
¢ Perceptions of "killers" and "enemies." A beautiful mosque in China is juxtaposed with the graffiti spray-painting of the phrase "McKiller" and the McDonald's arches.
What does he name the series?
"I'd rather not," he says. "I'm really more interested in what people say. When I have conversations with people, I end up asking what they see."
National attention
Jurors with the NFAA certainly noticed his work.
"There's something in him - he's always looking under the skin of humanity," says Pradip Malde, a professor of art at the University of the South in Sewanee, Tenn. "He said he wanted to travel and photograph to reduce xenophobia - he didn't use that word, but that's what he was talking about. He saw a lot of differences in these places, but he saw more similarities among humans than anything else."
Lau hasn't taken photo classes at LHS. But Angelia Perkins, the photography teacher there, is familiar with his work.
Perkins says Lau is beyond his years when it comes to understanding his subject matter.
"I think this is due, in large part, to his ability to travel to far-away lands with his father," Perkins says. "TV is TV and not reality to most students. The reality of the world hits home when one is standing in the middle of it. Also, you are able to make stronger statements about another culture when you can compare it to your own."
Photo Gallery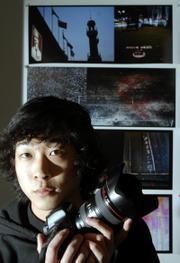 Lens on the world
Father-son bond
Tyler Lau admits his photography style is similar to that of his father's. But, he says, "it's not at his level, not even close."
The father and son don't spend much time talking about aperture settings or shutter speeds.
"A lot of the learning process isn't necessarily behind the lens," Tyler Lau says. "It's at the dinner table, or on the phone when he's on the other side of the world talking about what he saw."
Pok Chi Lau says he started traveling with his son early, in part, because he wanted to build up his resistance to diseases around the world. But he also wanted Tyler to know the people he's met around the world.
"I wanted him to be able to have access to the contacts early on," Pok Chi Lau says. "That was from day one, that these contacts are available to him."
Pok Chi Lau says he's glad his son's photos have taken on a message similar to the one he's developed over decades. He says taking photos simply for art's sake is often only "an extension of one's ego."
"I gave it to him," Pok Chi Lau says. "It's his fortune whether he puts it on his lap or puts it to the side. It's all his decision."
His future
Tyler Lau, despite his early success, says he doesn't want to be a professional photographer. He's interested in majoring in international business.
He's also considered attending KU. But last summer, he was diagnosed with attention deficit disorder, and a combination of introspection, medication and counseling has helped his grades and standardized test scores to the point he's considering other options.
No matter his major or school, he says, "I'm not afraid of my photography dropping off." Rather, he thinks traveling the world on business could be his ticket to furthering his work with the camera.
He does worry there won't be much of an audience for his type of photography in the future.
"It'll be harder," he says. "People who value this kind of stuff are going away. And with the Internet tools, even TV is starting to die off. To go out of your way just be lectured (by the photographs), I don't know how many people can appreciate that."
Even so, Lau is setting high standards for himself. He wouldn't have it any other way after being around his father's work for so long.
"I've been so fortunate to be with him," Tyler Lau says. "I'd be a letdown if I couldn't do anything with the things I've been given. It would discredit everything I've done so far."
Copyright 2018 The Lawrence Journal-World. All rights reserved. This material may not be published, broadcast, rewritten or redistributed. We strive to uphold our values for every story published.