She tagged along with her brother to the park in their South Central Los Angeles neighborhood, where he had flag football practice. She had nothing to do but wait for him to finish, so she brought a basketball with her one day.
The high school boys - she guessed they were about 18, or nine years older than she was - asked if they could use her basketball. She told them they could as long as she was allowed to join them.
And that's where it all started for Shaquina Mosley, who suddenly has weaved her way into the limelight by hitting game-winning shots in back-to-back Big 12 games for a Kansas University women's basketball team that was 0-9 in conference games before her clutch finishes.
"They didn't take it easy on me," Mosley said, looking back on her games in Normandie Park. "They blocked me. They fouled me. Everything. I showed them that I was tough, so they let me keep playing with them."
Back then, she said, her toughness outweighed her skill.
"I wasn't that good," she said. "I played defense, and I passed the ball, so they liked that."
Mosley's doing a little bit of everything for the Jayhawks in this, her senior season. For example, in a one-point victory Saturday at Texas, Mosley not only hit the winning layup with 0.4 seconds remaining, she totaled seven points, seven rebounds, seven turnovers and five assists. In the victory against Colorado at home last week, Mosley hit the game-winner, a runner with four seconds left and contributed 20 points, eight rebounds and five assists and was charged with just two turnovers.
Mosley wasn't always at the center of the action for KU. As a junior, her transition from junior-college basketball was a trying one. She started just three games, served a two-game suspension, and averaged just 2.9 points per game. (She's averaging 12.5 points this season in Big 12 games).
"I still felt good about my decision to come to Kansas," Mosley said. "I wanted to play for coach Bonnie (Henrickson) since my freshman year in college when she was recruiting one of my teammates. I just knew that I had to keep working hard and I couldn't give up just because it was getting harder for me. I knew it would help me in the long run because she's such a great coach."
What about Henrickson made her want to come to Kansas?
"Just her personality," Mosley said. "She just kept it real. She didn't tell me I was going to come in and be a star and I was going to start. She just said she needed me to help the team win. Some coaches were like, 'You're going to be a star. You're going to start. You're going to be on billboards.' This that and the third, and it was nice talk, but I just wanted the coach to be upfront and real with me and Bonnie was. That's why I never doubted my decision."
Mosley said her first name is of West African descent and means "truth in life," fitting, considering she's not easy to snow. When the coaches made promises to Mosley, she repeated the same statement to herself: "I know you're probably telling 15 other players the same thing."
Mosley's interests extend well beyond the basketball court. She said she's a History Channel buff, and proved it by sharing what she learned on one of its shows when she talked about the cold summer of 1817 that destroyed crops and led to deaths in New England, the believed cause being volcanic ash that hung in the atmosphere and blocked the sun's rays.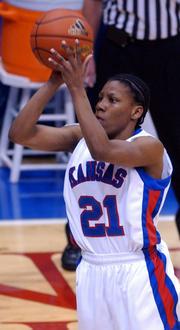 In the KU media guide, Mosley listed Malcolm X as the historical figure she would have most liked meeting.
"A lot of people get him wrong," she said. "They thought he was just violent and wanted to hurt people. That wasn't the case. He just wanted equal rights, just like Martin Luther King, and from reading about Malcolm X, I know there is a different side that people don't understand. He stood up for what he believed and when he didn't think something was right, he was truthful with the whole Muslim thing. He thought they were going about things the wrong way and started teaming up with Martin Luther King, which is interesting."
One of her modern-day heroes is Miami Heat center Shaquille O'Neal, formerly of the Los Angeles Lakers, and it has nothing to do with the Shaq nickname they share.
"He's a really nice person," said Mosley, who moved with her family to Antelope Valley, Calif., when she was 12. "I never got to meet him, but he did a lot for L.A. He did a lot for the community. Every Christmas, he would give away hundreds of thousands of dollars worth of toys to the less fortunate, a big diesel truck of toys, and he'd give them all away."
At 5-foot-6 and 134 pounds, it wouldn't make sense for Mosley to emulate the original Shaq's game. It's no surprise she lists Allen Iverson as a favorite.
"He's so small and he's not going to let that hold him back," she said.
At the moment, Mosley's athletic interests are trained strictly on basketball. She said she is considering joining the track and field team after basketball season. She said she likely would compete in the triple jump and 400 meters.
"I always wanted to be a track star," Mosley said. "I always wanted to go to the Olympics and run the 100."
Mosley and fellow senior Sharita Smith, the lone holdover from the Marian Washington era, have three remaining home games in Allen Fieldhouse: Missouri on Valentine's Day at 7 p.m.; Kansas State on Sunday; Oklahoma on Feb. 21.
Mosley and teammates are hoping fans of the men's basketball team record Wednesday night's telecast of the game at Colorado so that they can come to the Fieldhouse to watch a live game.
"It's the Border War," Mosley said. "We're playing Missouri. If you don't like Missouri, it's a great game to come to. You're going to see a good game. They're going to come out fighting and we're going to come out fighting."
The final two home games will be special ones for Mosley because her mother, Evelyn Mosley, will be in attendance, watching her daughter play for Kansas for the first two times.
"She saw part of one of my junior college games," Mosley said. "She hasn't seen me play a college game all the way through."
When watching Mosley, it's best to stay until the end. It has been the best part, be the topic either a particular game or her basketball career in general.
Copyright 2017 The Lawrence Journal-World. All rights reserved. This material may not be published, broadcast, rewritten or redistributed. We strive to uphold our values for every story published.