That electronic calendar that helps organize your life might betray you soon.
Digital calendars and computers run by older software could schedule appointments one hour later than intended because daylight-saving time starts three weeks earlier this year.
Thanks to Congress' 2005 Energy Policy Act, the time change (or "spring forward") begins March 11 and will end a week later than normal, in November. Proponents hope the measure will conserve energy.
Because of the software and scheduling quirk, businesses and institutions that depend on technology have scrambled to make sure applications, particularly calendars, will work properly.
"It's interesting when decisions like this get made by Congress. Did anybody think through all of the ramifications of a decision like that?" said Thelma Simons, a service manager for KU Information Technology.
Nationally, most technology professionals believe inconvenience will be the biggest result, much like when Australia made a similar change in 2004 to add daylight for the Olympics in Sydney.
"It depends on how important that meeting is that you might have missed," Simons said.
But technology experts also have warned that if banks, stockbrokers or airlines do not prepare their computers, it could affect transactions, trades or airline flight schedules.
Preparations at KU
Kansas University has sent out campuswide e-mails and operated an informational Web page in recent weeks to notify students, faculty and staff.
The university operates a secure Web site that students and faculty use to schedule meeting times with advisers, use of equipment and room reservations. For now, staff have advised faculty and students to type in the correct time in the subject line in case the software does not spring its clock forward during the three-week period.
"The scope from our perspective is huge because of updating all of the servers and all of that," said Simons, who is helping communicate the change to the KU campus. "We're trying to reduce the effect on our campus users. There will probably be some disruption of calendars no matter what we do."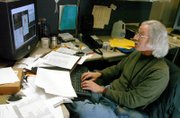 KU technology staff members are checking the more than 300 servers and other equipment. They also are working with support staff to make sure each individual department is prepared.
Fixing attempts
To add to the confusion, only the newest versions of Microsoft and Apple software are prepared for the switch. Microsoft is releasing a patch Tuesday that will update software as far back as Windows XP, and it will be added during a computer's next automatic update. For Apple, only Macintosh OS 10.4 is prepared.
Anyone who uses software that will not update the time will have to manually change their computer clocks not only on March 11, but again on April 1 - when daylight-saving time would have begun under the old schedule - and two more times in October and November at the end of daylight-saving time.
At Lawrence Memorial Hospital, staffers have worked for several weeks on making sure about 800 desktop computers and 70 servers will not be affected.
"It's a process. But it's definitely something that we are working on, and nobody seems to think that it will cause us any problems," said LMH spokeswoman Janice Early-Weas.
John Menghini, an Overland Park real estate developer and builder, said Sunday in Lawrence that appointment times in his BlackBerry get thrown off when he changes time zones for business travel. If his digital scheduler has not been automatically updated, he expected the daylight-saving switch to have the same effect.
"It's just an inconvenience. It's not a major thing," he said Sunday afternoon in downtown Lawrence.
Richard De George, a KU distinguished philosophy professor, said because of the huge stake businesses have in technology and computers today, they have been preparing. He doesn't consider it as serious as the Y2K situation leading up to Jan. 1, 2000.
"People now are pretty savvy about what problems are coming up and how to handle them," he said.
- The Associated Press contributed to this report.
Copyright 2018 The Lawrence Journal-World. All rights reserved. This material may not be published, broadcast, rewritten or redistributed. We strive to uphold our values for every story published.