New York — When Spin Master Ltd. started peddling its Air Hogs Zero Gravity vehicle two years ago, retailers doubted whether parents would be willing to pay $59.99 for a radio-controlled toy - even if it climbed walls.
But the item ended up being a hit and was followed by the equally popular $79.99 Storm Launcher. This year, Spin Master is pushing a $110 Robo Copter that transforms from a robot to a helicopter.
"This just proved to us that if it is a great toy, provides a wow and introduces new functions, consumers are willing to spend the money," said Harold Chizick, vice president of global promotional marketing for the Toronto-based toy maker. "We just decided to step it up."
For years, the increasing power of discounters like Wal-Mart Stores Inc. kept the toy industry locked in fierce price wars. But the toy makers now are encouraged by parents who last holiday were willing to spend $300 on Hasbro Inc.'s robotic Butterscotch pony and $249 for a Mindstorms NXT robotics kit from Lego Systems Inc.
As the annual American International Toy Fair starts this week, toy makers are getting bolder when it comes to pushing pricier, higher-quality toys.
From parrots to pinball
Zizzle LLC, which did well with its $300 pinball machines last year, is adding more lights and sounds, and increased the price to $350, according to CEO Roger Shiffman. MGA Entertainment Inc., the maker of the popular funky Bratz doll, is coming out with toys that break the $150 barrier; last year, the threshold was $100.
Among the items at the fair, which features toys expected in stores later this year:
¢ Hasbro's $69.99 Squawkers McCaw Parrot, which repeats words and responds to touch.
¢ Mattel Inc.'s Fisher-Price guitar system, priced at $99.99, that plugs into the TV.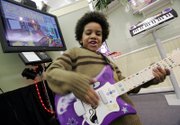 ¢ VTech Holdings Ltd.'s $99.99 Gadget, which functions as a digital photo and video camera and music player.
¢ Spin Master's $80 Wheels 'n Whistles foam coach.
"This game is about better quality," said Ronald D. Boire, president of U.S. toy business at Toys "R" Us. "It is not about plastic by the pound. We have been playing plastic by the pound for way too long."
Toys "R" Us will be making a bigger push to carry higher-grade toys, he said.
Improved sales
Consumers' willingness to spend on toys is helping to revive the toy industry, after struggling for several years with declining sales as kids opted for digital music players and video games.
Last year marked the first time U.S. traditional toy sales rose in several years, albeit only slightly, according to NPD Group Inc., a research company based in Port Washington, N.Y.
Wedbush Morgan Securities analyst Sean McGowan and other toy analysts believe that NPD's figures understate the improvement. They cite that Toys "R" Us Inc., which is under new ownership and management, had its best holiday season in several years; privately held KB Toys, which emerged from bankruptcy in 2005, also is showing signs of improvement.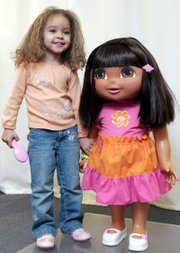 Business at the nation's top two toy makers is also strengthening. Mattel Inc. posted a 3 percent profit gain for the fourth quarter, boosted by a turnaround of its iconic Barbie line and strong sales of Fisher-Price toys, including the popular T.M.X. Elmo doll, one of the hottest sellers for the holiday 2006 season.
Mattel is unveiling Chat Divas at the fair, Barbie dolls that move and lip sync to music hooked up to Apple Inc.'s iPod digital music player and can also chat on the phone.
Microchips have come down in price, enabling toy companies to make more advanced toys that are still affordable. Zizzle's Shiffman noted one of last year's toys - Lucky, a $39.99 interactive dog that obeyed 15 different commands - would have sold for $150 five years ago.
Copyright 2018 The Associated Press. All rights reserved. This material may not be published, broadcast, rewritten or redistributed. We strive to uphold our values for every story published.