Tehran, Iran — President Mahmoud Ahmadinejad vowed Sunday that Iran would not give up uranium enrichment but he otherwise refrained from making fiery statements during celebrations on the 28th anniversary of the Islamic Revolution.
The hard-line president said he was prepared to negotiate with the international community and his speech fell short of an expected announcement that Iran had started installing 3,000 centrifuges to enrich uranium at its Natanz plant.
Ahmadinejad may have tempered his usual firebrand style in view of the U.N. Security Council demand that Iran halt enrichment by a deadline later this month or face additional sanctions.
Ahmadinejad's relative restraint also is widely believed to show the influence of moderates within the ruling Islamic establishment telling him to avoid making provocative statements that could heighten tensions between Iran and the West.
Iran's top nuclear negotiator said Sunday that Iran poses no threat to Israel, also suggesting the government was trying to project a less aggressive image.
Iran says the aim of its nuclear program is to generate electricity, but the United States and some of its allies fear the Islamic republic wants to create the fissile core of nuclear warheads. They have made halting uranium enrichment the main precondition for having talks on Iran's nuclear program.
The United States added to its accusations against Iran on Sunday when a defense official said high-level Iranian officials were arming Shiite militants in Iraq with sophisticated armor-piercing roadside bombs that have killed more than 170 American troops.
Iran has crossed "the arduous passes and stabilized its definite (nuclear) right," Ahmadinejad told crowds. He said the program would remain within the limits of the Nuclear Nonproliferation Treaty that bans production of nuclear weapons.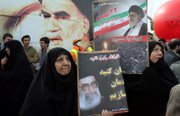 "We are prepared for dialogue but won't suspend our activities. : The government will defend the rights of the Iranian nation within the framework of the law."
At a security conference in Germany, Iran's top nuclear negotiator said Sunday its nuclear program was not a threat to Israel or any other nation.
"That Iran is willing to threaten Israel is wrong," Ali Larijani said. "We pose no threat and if we are conducting nuclear research and development we are no threat to Israel. We have no intention of aggression against any country."
But Israeli Foreign Ministry spokesman Mark Regev said he thought Iran was trying to convince the international community that its intentions were benign.
"The fact is that they have failed in this attempt and there is a wall-to-wall consensus that the Iranian nuclear program is indeed military and aggressive and a threat to world peace," Regev said.
Ahmadinejad said Iran's nuclear technology advances would be made public gradually in the next two months until April 9. He did not explain what would happen on that date, but it marks the one-year anniversary of Iran's announcement that it had enriched uranium for the first time.
Copyright 2018 The Associated Press. All rights reserved. This material may not be published, broadcast, rewritten or redistributed. We strive to uphold our values for every story published.