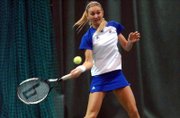 Kansas University's tennis team had difficulty rebounding from losing the doubles point to start its match with No. 55 Arkansas, and KU lost its fourth straight, 5-2, Saturday at First Serve.
Elizaveta Avdeeva and Edina Horvath teamed up in the No. 1 doubles to win 8-4, but Lauren Hommell and Yuliana Svistun came up short in their No. 2 doubles match, falling 9-7.
"It was close. We should have won that match," said Hommell, who was paired with Svistun for the first time. "And then we got kind of down, so it just would have been a lot better for our confidence.
"I think if we would have won the doubles point, it would have been a lot closer match - Arkansas would have really felt the pressure, and we would have had a little more confidence going into the singles matches."
In the No. 3 doubles, Stephanie Smith - who was making her first appearance of the spring season - and Kunigunda Dorn fell, 8-4, to give Arkansas the early 1-0 lead heading into singles.
"I felt good with what our (doubles) girls did today - we just have a lot of work to do," KU coach Amy Hall-Holt said. "We've got to get these girls familiar with each other now at the (No.) 2 and (No.) 3. Of course, our (No.) 1 doubles, they're just a great duo, and they just bring a lot of energy to the table, so the other two (doubles teams) know they have to step up every time they go out."
It looked as though the Jayhawks (1-6) would be swept for the first time this year, with the top three singles - Avdeeva, Dorn and Horvath - losing.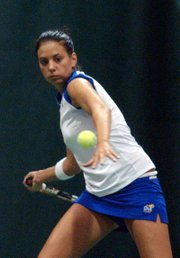 But Svistun won the No. 5 singles, 8-4, playing a pro-set match due to the Razorbacks' guaranteed victory.
Shortly after, Hommell rebounded from a second-set loss to win the No. 4 singles match, 6-3, 2-6, 1-0(8).
"I won the first set and had her down, but she came back out firing, and I just kind of froze and just thought she was going to just beat herself," Hommell said. "But she didn't and came back hitting winners, and I just freaked out, then I just stepped it up in the third set."
With just one win in their first seven matches of the season, the Jayhawks will have a chance on Friday - playing host to BYU - and Saturday - going against Utah at First Serve - to get some momentum going before the bulk of the Big 12 Conference season gets underway Feb. 24 at Oklahoma State.
"We've got to come up with some wins before we get into conference play just to get our confidence up," Hommell said. "We've got to win the doubles point. It's just big, because it takes the pressure off of us because we only have to win three singles instead of coming out and winning four. It would just give us a lot of confidence if we won one of the matches next week - or both."
Copyright 2018 The Lawrence Journal-World. All rights reserved. This material may not be published, broadcast, rewritten or redistributed. We strive to uphold our values for every story published.