Memo to any college coach who might be crossing paths or swords with Texas in the next six of seven weeks:
Beware a terrific Longhorn freshman. This kid is capable of scoring more than 30 points, been known to hoist a team onto his young shoulders and carry it into the winner's circle.
And if that's not scary enough, get this - his name's not Kevin Durant.
This one's about 10 inches shorter than Durant, who's being compared with the greatest freshmen in NCAA history. He's D.J. Augustin, and he's making Kansas University coach Bill Self seem prophetic. Self said earlier this year that if not for Durant, Augustin would be the one everyone raved about, and it's a theory that'll get no argument from Iowa State coach Greg McDermott.
The underdog Cyclones hatched an intelligent plan when they traveled Saturday to Austin - drape all available bodies over Durant, try like the devil to disrupt him while also hassling A.J. Abrams behind the three-point line.
Worked like a charm, too. Abrams was just 1-for-10. Durant scored 17 points, 16 below his Big 12 Conference average.
But all that did was set Augustin loose. And the 5-foot-11 point guard erupted for a career-best 31 points in a 77-68 victory that moved Rick Barnes into a tie with Tom Penders for the most victories (208) by a Texas coach.
"I thought our guys executed the plan of making Durant and Abrams' looks tough," said McDermott. "But by doing that you are going to give up some things. But we had to give up something. It was going to have to work to perfection. If we would have got D.J. to cooperate a little better, maybe it would have worked."
Augustin put up 13 field-goal attempts and hit nine. At the free-throw line he was 10-for-10. He also had four steals and six assists.
"One of the best performances I've seen all year, maybe the best by anybody on our team," Barnes said. "He said, 'This team is mine, and I'm gonna run it.' He led the team with confidence."
Confidence seems common among the Big 12's upper half, as the regular season begins to wind down. Every one of the top six teams won Saturday.
No. 6 Texas A&M; took care of business on the road and remained in first place with a 66-55 victory at Nebraska. The Huskers, like the Cyclones, concentrated on holding down their opponent's top scorer.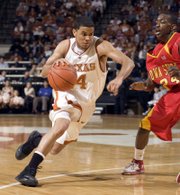 And like the Cyclones, they made it work, but only to a degree. A&M; guard Acie Law, who averaged a shade under 20 points in his previous 10 games and has been mainly responsible for the Aggies' surge, was held to nine. But sophomore Josh Carter hit eight three-pointers, tying the Devaney Sports Center record for an opponent.
No. 17 Oklahoma State did what it's done better than anyone else in the league this year: win in overtime. Mario Boggan had another standout game with 35 points and 14 rebounds in a 95-93 thriller over the fading Red Raiders of Texas Tech.
It was the fifth loss in a row for Tech and the first time coach Bob Knight has suffered setbacks in five consecutive games since 1971-72, his first year at Indiana.
"Going into overtime gave us a surge of energy," Boggan said. "The conditioning in practice and learning how to focus really was what won the game for us."
On the anniversary of a day most Missouri fans would like to forget, No. 9 Kansas surprised even itself with an easy victory. Julian Wright had 33 points, his best game of his life, and the Jayhawks cruised 92-74 past the Tigers in Mizzou Arena. It was exactly a year ago the Tigers began their messy separation from coach Quin Snyder, which led to the hiring of Mike Anderson.
"Everyone knows that when we come here, we're going to get a fight," Kansas guard Brandon Rush said. "What happened today ... I never expected something like that."
It was the second blowout win in a row for Kansas in a rivalry game. On Wednesday, they flattened Kansas State, 97-70, ending the Wildcats' seven-game winning streak.
So the Wildcats immediately began what they hope will be another long run. Playing well enough to win, but not well enough to keep coach Bob Huggins happy, Kansas State beat Colorado 78-59, handing the Buffs their 10th straight Big 12 road loss.
The only team with a worse Big 12 road record is Baylor. But Baylor can also lose at home. Nate Carter scored 22 points to lead Oklahoma past the Bears 68-64 in Waco.
Copyright 2017 The Associated Press. All rights reserved. This material may not be published, broadcast, rewritten or redistributed. We strive to uphold our values for every story published.