Lisbon, Portugal — Voters failed to overturn Portugal's strict abortion law Sunday because of low turnout at the polls, but the prime minister nonetheless vowed to relax the restriction through legislation in the conservative Roman Catholic country.
With nearly all the votes counted, almost 60 percent of voters approved the referendum allowing women to opt for abortions up to the 10th week of pregnancy, while slightly more than 40 percent opposed it.
However, under Portuguese law more than 50 percent of the country's 8.9 million registered voters must participate in a referendum to make the ballot valid. The turnout Sunday was 44 percent.
Prime Minister Jose Socrates, leader of the center-left Socialist Party, said he was undeterred by the failure of the referendum and would stick to his pre-ballot pledge to change the law through parliament.
"The people have spoken and they have spoken in a clear voice," Socrates said.
The result "reinforced the political and legislative legitimacy" of his plan to introduce a bill that would legalize abortions up to the 10th week of pregnancy, he said. His party holds an overwhelming majority in parliament.
Debate on the abortion law, one of the most restrictive in the European Union, pitted the Socialist government against conservative parties and the Catholic Church, which claims more than 90 percent of Portuguese as followers.
Under current law, the procedure is allowed only in cases of rape, fetal malformation or if a mother's health is in danger, and only in the first 12 weeks of pregnancy.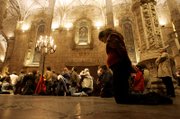 In most other EU nations, abortion is permitted within much broader limits. Women can ask for abortions up to the 24th week of pregnancy in Britain and up to the 12th week in Germany, France and Italy.
Church officials made no immediate comment on the referendum.
Luis Marques Mendes, leader of the main opposition Social Democratic Party, said he would not stand in the way of granting broader abortion rights despite his opposition during the referendum campaign.
"Even though the (referendum) result is not binding, we believe it should be democratically respected," he said.
It was the second time in less than 10 years that a referendum on the deeply divisive issue failed to draw enough voters in Portugal. In 1998, a majority of voters rejected a similar proposal; the referendum was declared void because of a low turnout, and Portugal's policy remained unchanged.
Socrates, whose party took power in a landslide victory almost two years ago after he promised broad reforms and national modernization, described Portugal's current law as "backward."
The current law merely drives abortion underground, Socrates said. Women seeking to terminate their pregnancies travel to EU countries where it is legal, especially to private clinics across the border in Spain where abortion is permitted on psychological grounds.
Copyright 2018 The Associated Press. All rights reserved. This material may not be published, broadcast, rewritten or redistributed. We strive to uphold our values for every story published.