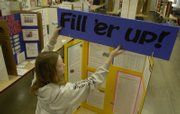 Driving a little more slowly on the highway can improve your gasoline mileage.
Just ask eighth-grader Hannah Davidson.
The Tonganoxie student proved it by conducting consumer research, charting out her mother's minivan mileage over two months.
"It was interesting to see how much of a difference something as simple as driving 10 mph slower makes," said Hannah, who studied the subject for the 56th annual Douglas County Science and Engineering Fair.
Hannah, who is home-schooled, was among more than 300 students who entered their science and technology projects in the fair.
"It's a mixture of consumerism and science," said Dave Nordlund, the fair's director.
"There are just about as many kids testing how long batteries will last or how much water a diaper will hold as doing science," Nordlund said.
The fair was being judged this morning in Building 21 at the Douglas County 4-H Fairgrounds. Exhibits will be available for public viewing from 3 p.m. to 9 p.m. today and from noon to 10 p.m. Friday.
An awards assembly will be held from 7 p.m. to 9 p.m. Friday.
Hannah was among dozens of students who were bringing in their projects Wednesday morning.
Her project, called "Fill 'er Up," was typical of many of those on display: picking a consumer question, doing research, gathering evidence and presenting the results.
Hannah said she was actually interested in finding out two questions. One was the mileage question: whether driving 60 mph instead of 70 mph would make much of a difference. She also wondered whether the MPG ratings listed by the manufacturer were similar to what her mother's minivan would get.
During October and November, she kept track of the mileage and fuel consumption on the minivan as her mother drove each day to work.
"It took a while to get all the readings," Hannah said.
Her findings: Her mother saved 17.6 percent in gasoline by driving 60 mph instead of 70 mph. And her mother's van actually got better gas mileage than what the manufacturer had posted.
"We should all drive slower and we'd save a lot of gas," Hannah said. The research also made her think about other projects.
"I think I'd try it with a hybrid car to see if driving slower would actually make a difference," she said.
Austin Ward, a Baldwin City third-grader, was interested to find out whether music affects a person's heartbeat while exercising.
His project contained a chart showing the heart rates of several family members as they listened to rock 'n' roll music for five minutes.
His conclusion: The heart beats a little faster to rock 'n' roll while exercising.
Audio Clips
Science fair
Megan Bracciano, a ninth-grader at Southwest Junior High, tested the "five-second rule."
Bracciano wanted to find out whether a dry piece of food left on the floor for five seconds would collect less bacteria than one left on the floor for five hours.
"Well, like the 'MythBusters' say, this myth is plausible," she wrote in her conclusion. "Yes, bacteria are picked up, but it would be far worse to lick the floor or leave the pile of food there for five hours instead of five seconds."
Nordlund said the fair is a learning experience in how to do research, get data, analyze results, come to a conclusion and present findings.
"That set of skills is going to last them all their life, whether they're in science or anywhere else," he said.
Copyright 2018 The Lawrence Journal-World. All rights reserved. This material may not be published, broadcast, rewritten or redistributed. We strive to uphold our values for every story published.