New coaching rivals Bill Self and Bob Huggins held a philosophical discussion about basketball during pregame warmups Wednesday night at Allen Fieldhouse.
"We were talking and I said, 'Your guys are playing great,' and it was a mutual respect. One thing he said to me was, 'Isn't it amazing that it all comes down to making shots?' And he's right," Kansas University coach Self said after the Jayhawks hit a sizzling 55.9 percent of their shots in a 97-70 rout of Huggins' Kansas State Wildcats.
Facing a frenzied man-to-man KU defense, K-State hit just 39.1 percent of its shots, including a horrific four of 22 threes just four days after the 'Cats made 14 of 27 threes in a victory at Texas.
KU (20-4 overall, 7-2 Big 12) didn't halt Kansas State's seven-game winning streak, and drop KSU to 17-7, 6-3, just by shooting the ball in the hole and watching the Wildcats miss.
The Jayhawks, who were led by Brandon Rush's 18 points, as well as 14 from Darrell Arthur, 13 from Darnell Jackson and 11 each from Mario Chalmers and Sherron Collins, outrebounded usually gritty KSU, 46-24.
"We knew the type of team K-State was. We knew they'd try to bully us, punk us and dominate the boards. We attacked the boards," Rush said.
He said the Jayhawks were motivated after Saturday's 69-66 home loss to Texas A&M.;
Photo Gallery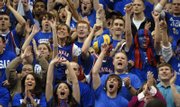 KU vs K-State
"I don't think our manhood was questioned. We played tough Saturday, but gave away the game with bonehead plays at the end. We had to come with the same aggressive mind-set tonight," Rush said.
Rush scored 15 points off 5-of-8 shooting in the first half as KU blazed to a 47-35 halftime lead.
"I came out aggressive. I didn't want to have back-to-back games of not being aggressive," said Rush, who hit six of 11 shots, including four of seven threes. "My teammates know who has the hot hand, and they kept passing it to me."
That was fine with Self, whose Jayhawks opened the second half on a 10-0 run to build a 22-point lead and pretty much put the game away. Not even Jermaine Maybank's career-high 26 points could put a dent in the Jayhawks' big lead, which reached 31 points late.
Go figure
2 First-half turnovers by the Jayhawks60.0 KU's second-half field-goal percentage55.9 KU's field-goal percentage overall39.1 K-State's field-goal percentage18.2 K-State's three-point field-goal percentage0 First-half points for Cartier Martin 0 Second-half points for David Hoskins1-2 Scoring rank among the Wildcats by Martin, Hoskins coming in
"Brandon is as good a shooter in America on some nights, and on other nights he labors," Self said. "I thought he played really well. I thought our team played really well. When we came out tonight, I was concerned how we would respond to the loss against A&M.; The guys responded with toughness."
Jackson had 10 rebounds to go with his career-high-tying 13-point output. Arthur had four boards to go with his 14-point night (off 7-of-9 shooting). Also, Sasha Kaun hit four of five shots and had nine points with three boards. Julian Wright grabbed 11 boards to go with his nine points.
"I thought all of our bigs played well," Self said.
Of Arthur, who busted a recent slump, he noted: "He hasn't had a bad attitude, but he's been seeing the glass half-empty. Every freshman goes through it. He lets things bother him. He played with a free mind tonight."
All the Jayhawks played hard and loose, impressive considering there's usually some big-time pressure from the fans to perform well after a loss.
"Pressure is not the right word. There was a serious sense of urgency," Self said.
As far as KU's first game against first-year KSU coach Huggins, Self, who is 8-1 in four seasons against K-State, downplayed the matchup.
"I don't think Bob Huggins had anything to do with us playing well. I think Bob Huggins had a lot to do with the hype around the game, but we're playing K-State, we would have been excited playing K-State no matter what," he said.
"I will say this : since I've been here, it's the first time we played well against K-State in this building. I totally respect Bob Huggins and everything, but he didn't shoot the ball tonight. His arrival has created enough hype where people around it get excited. I think our guys would have been excited playing anybody after Saturday."
The Jayhawks next will meet Missouri at 2:30 p.m. Saturday in Columbia, Mo.
Copyright 2018 The Lawrence Journal-World. All rights reserved. This material may not be published, broadcast, rewritten or redistributed. We strive to uphold our values for every story published.