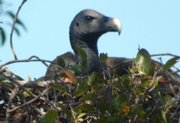 Bangkok, Thailand — Researchers in the remote forests of Cambodia said Wednesday they have discovered the only known colony in Southeast Asia of slender-billed vultures and scores of other endangered birds.
The colony was discovered last month in the jungles east of the Mekong River in Cambodia's Stung Treng Province.
"We discovered the nests on top of a hill where two other vulture species were also found," said Song Chansocheat, manager of the Cambodia Vulture Conservation Project. The government project is supported by the World Conservation Society, BirdLife International, the World Wildlife Fund, the Disney Wildlife Conservation Fund and the Royal Society for the Protection of Birds.
The area was also found to be home to several other species listed as critically endangered, including the white-rumped vulture.
The team also spotted a red-headed vulture, giant ibis and an endangered primate called a silvered langur, or leaf monkey.
Researchers said slender-billed vultures have been found in other parts of Southeast Asia but that the only other known colony until now was in northern India. They are believed extinct in many parts of Southeast Asia, including Thailand.
Soon after the discovery, Song's team set up measures to protect against poaching and egg collecting, and is now working with local communities to ensure that they are involved in longer-term conservation measures.
Copyright 2018 The Associated Press. All rights reserved. This material may not be published, broadcast, rewritten or redistributed. We strive to uphold our values for every story published.