Savor the beating because for as long as Bob Huggins stays at Kansas State, there won't be another one quite like it. The fiery coach will revive the rivalry that has been dormant for so long, even if his team wasn't capable of doing so Wednesday night.
Help is on the way for the Wildcats, who brought the same Big 12 record as Kansas University into the game, but got blown out of Allen Fieldhouse, 97-70. Right from the tip, it was evident nothing but the records defend these teams as equals.
KU was faster, bigger, more confident and smarter in stampeding to a 15-2 lead.
If not for reserve guard Jermaine Maybank having the game of his life, who knows how ugly this one could have grown. Scoreless in four of his previous five games and averaging 2.6 points coming into the night, Maybank went off for a game-high 26 points.
Next season, Maybank will be gone and mostly forgotten.
By then, when Huggins welcomes back injured Bill Walker and introduces national top-five recruit Michael Beasley to the Big 12, it will become a more fair fight than the one the Jayhawks dominated to the delight of the Allen Fieldhouse crowd in need of some medicine from the Texas A&M; hangover.
By then, the Wildcats' 7-foot-3 center, Jason Bennett, will be a sophomore, perhaps even ready to compete at the high Division I level. For now, he's a sideshow. In the 20th century, he would have been called a hothead. Since this is the 21st century, he has anger issues. Either way, he has the "I'm mad, I'm really, really mad, so you better watch out" look down better than any other aspect of his game. Bennett did block three shots in 11 minutes. He also fouled out, protesting each call with a look to the bench for support. He received credit for neither a point nor a rebound.
He'll get better as the years pass, and so will the Wildcats. Still, the team with the brightest-looking future was the opponent.
Photo Gallery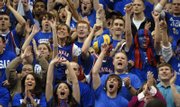 KU vs K-State
Kansas forward Darrell Arthur, another freshman who needs to learn how to avoid fouls, contributed 14 points in 19 minutes before fouling out. Arthur wasn't ready to guard K-State forward David Hoskins, who had a quiet night except for a spurt in which he rung up a quick seven points on Arthur, twice attacking him with drives and once with a three-pointer. Arthur compensated at the other end with banks, baby hooks and slams.
Arthur showed enough to justify predictions that he will develop into a terrific college player in coming years, and he wasn't even KU's most impressive freshman.
Slimmed-down Sherron Collins, who said he has lost 25 pounds since coming to KU, also said he's "way faster than I'm showing now." Easy Sherron, the court is only 94 feet long.
It was Collins' decision-making on the fly that was so impressive in this one. In 28 minutes off the bench, the emerging Collins totaled 11 points and seven assists and did not get charged with a turnover.
Eliminating fast food from his diet has been the key for Collins.
"At first, I thought it was like punishment," Collins said. "I've got to eat this food and work out twice a day? It's helped me out a lot. Right now, greasy food doesn't feel right when I eat it."
Who knows, a few years from now Collins might even eliminate McDonald's from the All-American line in his bio.
Copyright 2018 The Lawrence Journal-World. All rights reserved. This material may not be published, broadcast, rewritten or redistributed. We strive to uphold our values for every story published.