Photo Gallery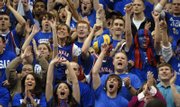 KU vs K-State
For Darrell Arthur, changing into a new pair of shoes this week wasn't a last-ditch effort or anything, and it had nothing to do with superstition - something athletes tend to turn to during funks.
Arthur, Kansas University's freshman forward, said the new kicks just felt better.
Fair enough.
In his first game donning a pair of clean, white Adidas Pro Models, the freshman reverted to his nonconference form, when he scored in double figures in eight of his first nine games as a Jayhawk.
Arthur's 14 points in Wednesday's 97-70 victory over Kansas State came on 7-of-9 shooting and went in the books as his biggest offensive output since a 17-point performance against South Carolina on Jan. 7.
"I've had a couple of good practices the past two days," Arthur said. "Changed my shoes, they're a little bit lighter, so I can get up a little bit more."
Arthur wasn't the only one to notice the practice prowess, either.
"I guess (the shoes helped). In practice yesterday, he was just dunking everything, blocking shots and running the floor," said fellow freshman Sherron Collins. "We've been waiting on 'Shady' to get back, and he's back now."
Arthur also credited his better offensive night to taking a deep breath and not rushing things when the ball is in his hands with his back to the basket.
All night, Collins and his backcourt-mates worked hand-in-hand with a cast of many in the paint, as both Arthur and junior big man Darnell Jackson (13 points, 10 rebounds) struck double digits off the bench.
One thing aiding that was a limited amount of time on the floor for K-State's 7-foot-3 freshman Jason Bennett, who was held scoreless, reboundless and, well, mostly statless in 11 minutes, fouling out with 7:20 left.
That, coupled with 6-7 small forward Cartier Martin flexing to the post to help out, opened the floodgates for the KU bigs, and the Jayhawks outscored the Wildcats, 60-24, in the paint.
For Arthur, though, the performance allowed for a sigh of relief, since he has averaged just 8.2 points per game in nine Big 12 Conference contests.
"Like I said, it was a big mismatch on the post, so we found that out and just went to work down there," Arthur said. "When we're in foul trouble, we need people to step up and score down low, and we haven't been scoring down low lately."
Copyright 2018 The Lawrence Journal-World. All rights reserved. This material may not be published, broadcast, rewritten or redistributed. We strive to uphold our values for every story published.