Tracy Bunge thinks she knows how everyone will perceive her 11th Kansas University softball team.
"They're going to look at us," Bunge said, "and say we're going to ride (Kassie) Humphreys. And that's what we're going to do."
Humphreys, a 5-foot-11 senior right-hander from Glendale, Ariz., is the top returning pitcher in the Big 12 Conference.
She posted a glossy 1.19 earned-run average last season while holding foes to a puny .156 batting average.
With virtually all of the offense on last year's Big 12 Tournament championship team graduated, the Jayhawks will have to rely heavily on Humphreys.
But how much is too much? It's unlikely, for instance, that Bunge will start Humphreys in both games of weekend Big 12 series.
"We hope not to do that," Bunge said. "At the end of the year with all those innings, some pitchers tend to break down."
Another factor, Humphreys noted, is familiarity.
"After awhile," the veteran hurler said, "they start to figure you out."
And that's where the Jayhawks' other two pitchers - Valerie George and Sara Vertelka - come in. Neither throws as hard as Humphreys, but each has a strong suit.
"Val has a rise ball and a change-up," Humphreys said of George, a sophomore right-hander from Tucson, Ariz. "She can make people look stupid."
Dozen appearances
George saw limited duty behind Humphreys and Serena Settlemier last spring, making only 12 appearances.
"Val is really a solid competitor," Bunge said. "She's only 5-4, but she has a big heart."
Vertelka, a freshman right-hander from Rancho Cucamonga, Calif., also throws a change-up, but her primary out-pitch is a drop ball.
"We want to do everything we can," Bunge said, "to make those two grow and be the best they can be."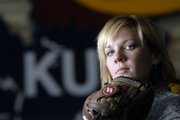 Meanwhile, Humphreys would like to step up a notch by adding a change-up to her repertoire.
"That used to be a very good pitch for me," Humphreys said. "I just don't throw it enough to be confident in it."
Humphreys hopes to work on the change during the Jayhawks' five-game season-opening tournament this weekend in San Diego.
"I'd like to," she said. "It's all about getting comfortable with it."
At the same time, Humphreys is growing more comfortable with all the new faces on the roster. Six members of last year's team - notably Settlemier, Destiny Frankenstein and Jessica Moppin - wrapped up their college careers in '06.
"It's a little sad, actually," Humphreys said. "We became really comfortable with each other. But I like the freshmen. They're so eager. They just want to go out and play ball."
Two freshman starters
Of the six freshmen, two are penciled in as starters - Sara Ramirez at second base and Ally Stanton in left field. Surprisingly, Stanton is a walk-on.
"She's a big, strong kid," Bunge said of Stanton, a 5-10 St. Louis-area product. "A lot of coaches feel she was overlooked. We think she's going to surprise some people."
The only other newcomer who has earned a starting job is Dougie McCaulley, a sophomore who was a second-team NJCAA All-American while playing second base at Odessa, Texas, JC last spring.
McCaulley, a left-handed slap hitter, will play right field.
"That's where we need her," Bunge said. "She'll lead off and stir the pot for us."
Another newcomer who could wind up as a starter is Amanda Jobe, a rangy left-handed hitter from Shawnee Mission Northwest. Jobe is battling senior Nicole Washburn at first base.
"Washburn has the experience," Bunge said, "but Jobe is a natural lefty and has a little more pop in her bat."
The right-handed Washburn hit .171 last season.
Catcher is also up for grabs, with three players, all sophomores, in the mix - Elle Pottorf, Tiffany Craner and Erika Simington.
Pottorf, who sat out last season with a shoulder injury, hit .280 with an impressive .404 on-base percentage as a freshman in '05. Craner played in 41 games last spring without making an error or allowing a passed ball, but batted only seven times.
Chapple top returnee
Third baseman Val Chapple is the Jayhawks' leading returning hitter after batting .228 as a freshman. Stevie Crisosto, a sophomore who hit .204 while playing center field last spring, is switching to shortstop, with junior Betsy Wilson, a part-timer last season, taking over in center.
Kansas had more home runs last season - a school-record 49 - than stolen bases (42), but the Jayhawks figure to steal more bases this spring, even though they won't be a classic speed team.
"We have to go from a team that relied on the home run," Bunge said, "to a team that strings hits together to score runs. To do that, we'll have to be more aggressive on the bases."
Copyright 2018 The Lawrence Journal-World. All rights reserved. This material may not be published, broadcast, rewritten or redistributed. We strive to uphold our values for every story published.