Years ago, a destructive prankster attached a garden hose to a spigot outside the Lawrence Community Theatre, cranked on the water and situated the hose under the basement door.
It happened on a weekend in 1997 and, fortunately, a volunteer who showed up to do some work caught the problem - but not before the basement had flooded, causing a great deal of damage.
Memories like this have been hitting Mary Doveton in waves as she prepares for the theater's 30th anniversary celebration. But for every negative recollection - the theater also suffered a devastating fire in 2003 and damage in last year's microburst - there are hundreds of positive ones.
"After the fire, we had people who had never even done anything with the theater before who came down and helped clean and try and rescue some of the costumes and bag things and clean walls," says Doveton, who's been director of the theater since its inception of 1977.
"And the neighbors around here have been so good, too. Last year when we had the microburst, I never knew so many people in the neighborhood had chainsaws."
To reciprocate that love, the theater has assembled some of its best vocalists to perform a retrospective of romantic songs from three decades of musicals, comedies and dramas. The tunes will be interwoven with anecdotes, myths and legends from the theater's history.
The celebration will be at 6:30 p.m. Wednesday - Valentine's Day - at Maceli's, 1031 N.H., and will include cocktails followed by dinner and a silent and live auction.
On the menu: grilled salmon with tropical salsa, herb and garlic beef, cranberry wild rice and fresh asparagus with lemon butter - all capped by a dessert bar.
But the main event will be the songs - everything from "On the Street Where You Live" from "My Fair Lady" to "Your Cheatin' Heart" from "Always ... Patsy Cline" to "Love is a Many Splendored Thing" from "Forever Plaid."
"It's mostly recognizable songs that people will be able to hum along to," Doveton says.
Vocalists will be Annette Cook, Jayna French, Daniel Lassley, Curtis Marsh, Richard Walker and Sarah Young, accompanied by Dee Blaser and under the direction of Judy Heller.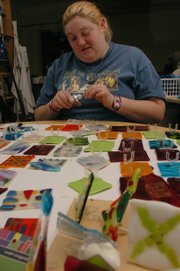 Tickets are $60, and reservations must be made by Monday by calling 843-7469.
Red Balloon Redux
In other share-the-love news: The Red Balloon To Do is lending its name to a new project called Red Balloon Redux.
The plan was hatched shortly after the Olive Gallery announced it would be closing at the end of February, eliminating perhaps the only venue in town regularly willing to take risks on young artists just starting out.
A group of proactive artists interested in sustaining the spirit of the Red Balloon To Do - an annual art happening at which patrons gain admission to exhibition venues by paying $1 and toting around a red balloon - have teamed up with its organizers. The collective has made it a mission to hunt down alternative spaces for one-night-only art shows.
"It will be harder for people (when the Olive closes)," says Jon Allen, gallery manager. "People are going to have to do their own shows, basically. The Red Balloon organization wants to expand so that there will be a name to tie all those shows together."
The first such shin-dig, dubbed "Rich as Love," will be from 6 p.m. to 10 p.m. Monday at Teller's, 746 Mass. Curated by Whit Bones, the exhibit will showcase more than 10 artists, including Kendra Herring, Jeremy Rockwell, Betsy Timmer and Mark Carman.
'Have a Heart'
The teen artists at Van Go Mobile Arts have been busy crafting creative gifts for their fourth annual "Have A Heart" Valentine Art Show and Sale.
Decorated boxes, functional painted canvas, candlesticks, handmade cards, glass and a funky new collection of jewelry will be among the items for sale. All the work is being created by youths employed in the SuperJAMS and LifeJAMS programs, under the guidance of Van Go Art Director Cathy Ledeker.
"For SuperJAMS and LifeJAMS, we hire kids who have proven themselves to be independent, creative thinkers," says Jim Lewis, JAMS program director. "They have already proven themselves to be hard workers. They're dedicated, and they've already mastered the technical skills of a variety of media. In other words, they're great kids making cool stuff."
The show begins with an opening sale from 5 p.m. to 7 p.m. Friday at the Van Go studios, 715 N.J., and the gallery will remain open from 1 p.m. to 5 p.m. through Wednesday.
'Baroque by Candlelight'
They're calling it their Valentine's Day gift to Lawrence.
The Lawrence Chamber Orchestra, under the baton of Artistic Director Steven Elisha, will present its annual "Baroque by Candlelight" concert at 7:30 p.m. Saturday at Trinity Lutheran Church, 1245 N.H.
Three world-class musicians well-known in the tri-city area will be featured soloists: Larisa Elisha, violin; Margaret Marco, oboe, and Beau Bledsoe, guitar. Elisha will play the Bach Violin Concerto in E Major. She will be joined by Marco for the Bach Violin and Oboe Concerto in D minor. Bledsoe will perform the Vivaldi Guitar Concerto in D Major. The all-concerto program would have been typical of the baroque period, Steven Elisha says.
Audience members are invited to visit with the musicians following the performance, when a sumptuous buffet of chocolate desserts will be served, along with wine and champagne.
"This is a wonderful event for anyone who wishes to share time with their valentine," Elisha says.
Tickets, available in advance at the Lawrence Arts Center (940 N.H. or 843-2787), or at the door the night of the concert, are $30 for individuals, $50 per couple and $15 for students. Group discounts are available.
Copyright 2018 The Lawrence Journal-World. All rights reserved. This material may not be published, broadcast, rewritten or redistributed. We strive to uphold our values for every story published.