It appeared to be business as usual for Kansas University in its Sunflower Showdown clash against Kansas State on Jan. 14, 2006 in Allen Fieldhouse.
The Jayhawks, who had won 31 straight games in the series dating to 1994, held a comfortable 12-point second-half advantage over beleaguered coach Jim Wooldridge's sixth and final KSU squad.
Remarkably, the Wildcats didn't quit and, in fact, stole a 59-55 victory over the Jayhawks before a stunned throng of 16,300.
"It was pretty bad at the end. They stomped the Jayhawk like Texas A&M; did," sophomore Brandon Rush said of the Wildcats' victory celebration. "But we went down there and won, too."
Indeed, the Jayhawks, who play host to KSU at 8 tonight, won the rematch, 66-52, on March 4 in Bramlage Coliseum in Manhattan. It marked KU's 23rd consecutive victory in Manhattan and 18th in a row in Bramlage.
"It does," sophomore Julian Wright said of last year's game in Allen providing motivation. "But it is a whole new year. We just want to go out there and play, not really worry about the past. We can't really do anything about the past. We only can get ready for this game in 2007 and play our best."
KSU's Cartier Martin, who started and had 14 points in the win in Lawrence a year ago, now comes off the bench.
"We can definitely use that as confidence and knowing that we can go in there and win. The guys are confident we can go in and win there," Martin said.
Martin, a 6-7 senior, averages 15.5 points a game off 45.7 percent shooting (including 39 of 107 threes) and has made 26 straight free throws.
"Cartier Martin is a great shooter. He hit seven threes against Texas. I have never hit seven threes in a game in my life. I think he's a great player," Rush said.
Martin and Rush likely will guard each other.
"Those guys have lot of talent on their team, so it's going to be tough to try to contain just one person because they have so many athletes," Martin said. "What we're going to have to do is make it a team game and try to make their team beat our team."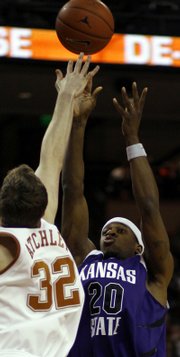 David Hoskins, a 6-5 junior, averages 14.7 points and 5.9 boards.
"He is a good slasher. He gets to the hole, gets to the line," Wright said. "He is shorter than most front line (players), so basically you have to not let him get started. If he gets started, gets confident, he can get to the line and really help the team and change the game like that."
K-State's other double-digit scorer is Lance Harris, a 6-5 senior who averages 10.9 points. He's made 40 of 101 threes for 39.6 percent.
"They are talented. They would have even more (talent) if Bill Walker was still playing," Wright said. Walker, a 6-6 freshman who averaged 11.3 points in six games, tore his ACL and is out until next season.
"Also they have coach Huggins (Bob, first year, formerly at Cincinnati). He is a really good coach. He always has them motivated and ready to play, and they play tough."
¢KU coach Bill Self on the Wildcats, who are 17-6 overall and winners of seven straight games. "Our guys understand K-State has a good team. I would say from a confidence standpoint they could be sky high, also from a looseness standpoint. They should be confident and loose. It's the way we need to play."
¢Rush on the new and improved Wildcats: "They have started to play really well. I think Bob Huggins has turned that team around. They have an emphasis on defense now, getting big stops at the end of the game like they did against Texas (in 73-72 win Saturday in Austin)."
¢KSU coach Huggins on the Jayhawks: "I think they are really talented. I think they have a great blend of experience and youth. I think they are terrific in transition. I think they are really good defensively. I think their numbers show that. They are well coached. I don't see a lot of weaknesses."
"I think lately (Sherron) Collins has played terrific. He's got the ability to create off the dribble. He really gets the ball in the lane. You could name about eight of them that are really good, eight of them that probably could have a chance to play at the next level. There aren't many teams that have that."
Of Rush, Huggins said: "He's their leading scorer and a long defender. They put him on people, kind of like what we do with Akeem (Wright), because of his length. He's a great athlete. He can beat you a lot of ways."
Copyright 2018 The Lawrence Journal-World. All rights reserved. This material may not be published, broadcast, rewritten or redistributed. We strive to uphold our values for every story published.