One and nine may not look so fine, but it's certainly better than 0-10 for Kansas University's women's basketball team.
Seniors Shaquina Mosley and Sharita Smith both posted career scoring highs as the Jayhawks edged Colorado, 70-68, in overtime Tuesday night in Allen Fieldhouse for their first Big 12 Conference win of the season.
"That's what seniors do," KU coach Bonnie Henrickson said after the Jayhawks notched their first league win since late last season.
Mosley and Smith are Henrickson's only seniors and both were at the top of their games . Mosley nailed the game-winning basket with four seconds left in OT on a drive down the right side of the lane.
"When I threw it up, I saw it bounce off the backboard and in," said Mosley, who finished with 20 points - one more than her previous career-high, "and it was so exciting."
Six days earlier against Texas Tech, Mosley was supposed to have attempted the same driving layup, but instead she pulled up and shot a 15-footer that bounced off the rim and enabled the Red Raiders to escape with a 66-65 win.
"This time I just saw I had an opportunity to go to the basket," Mosley said. "I didn't hesitate like I did last time."
Colorado coach Kathy McConnell-Miller blamed a defensive breakdown.
"We talked about not letting her get in the lane," the CU coach said. "We had done it many times, but she stepped up and made the play. It was a tough shot, and it was contested."
Meanwhile, Smith, the only player who has been on the KU roster for four years, counted a career-high dozen points - half at the free throw line where the Jayhawks made a sizzling 17 of 18 attempts.
Photo Gallery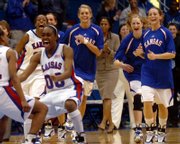 KU vs. Colorado women
Henrickson also credited Smith, who went in averaging only 1.8 points a game, for hounding Colorado's Jasmina Ilic into 4-of-15 shooting.
"Sharita couldn't have picked a better time for the best game of her career," the KU coach said.
Smith, a 5-8 guard from Dallas, bested a 10-point outing she had three years ago against Dartmouth. Smith had scored only 31 points all season.
"It felt awesome," Smith said, referring to the win. "Coach said during shootaround to close our eyes and thing what it felt like to get a win, and it felt good."
So excited were the Jayhawks that they staged a mini-celebration at midcourt before making the obligatory post-game handshake parade with the Buffaloes.
Kansas was able to overcome a career-high 25-point outing by CU freshman point guard Whitney Houston and a yeoman-like 22-point, 18-rebound performance by Jackie McFarland, a 6-3 junior from Derby.
" I give Houston credit," Henrickson said. "She did a nice job and had great poise for a young kid. And McFarland. That shows you how good she is."
But both McFarland and Houston outscored their teammates combined. Only three other Buffs scored, and they accounted for just 21 points.
"We were pretty two-dimensional," McConnell-Miller said.
Colorado was also guilty of 21 turnovers, right on their average. CU leads the Big 12 in that category. Meanwhile, the Jayhawks had a season-low 10 giveaways.
By minimizing turnovers and making all but one of their 18 free throws, the Jayhawks were able to overcome dismal shooting. They made only 25 of 78 shots (32.1 percent), including 3 of 21 from three-point range.
Freshman Danielle McCray had a particularly dismal shooting night, missing 13 of 15 shots but she and Mosley shared the team-high in rebounds with eight apiece.
Guard Kelly Kohn produced a solid all-around game with eight points, seven assists and seven assists.
Kansas (7-16, 1-9 Big 12) will travel to Texas on Saturday. Colorado is 10-12 overall and 4-6 in the Big 12. The Buffs are 0-9 away from home.
Copyright 2018 The Lawrence Journal-World. All rights reserved. This material may not be published, broadcast, rewritten or redistributed. We strive to uphold our values for every story published.