Jerusalem — With dozens of policemen looking on, an Israeli bulldozer began work Tuesday on an archaeological excavation next to the Holy Land's most explosive religious site, drawing Palestinian protests and condemnations from the Arab world.
Muslims are angry at Israel's plan to build a new walkway up to the compound where Islamic tradition says the Prophet Muhammad ascended to heaven and which Jews revere as the site of their two ancient temples.
Israel says the project is needed to replace a centuries-old earthen ramp that partially collapsed in a snowstorm three years ago. But its assurances that the work would cause no harm to Islam's holy sites did little to soothe tensions.
Palestinian leaders harshly condemned the project, and Palestinians clashed with Israeli security forces in several areas of Jerusalem and the West Bank. No injuries were reported.
"What is happening is an aggression," Mohammed Hussein, the top Muslim cleric in Jerusalem, told the Gaza Strip radio station of the Hamas militant movement. "We call on the Palestinian people to unite and unify the efforts to protect Jerusalem."
The dig is 50 yards from the walls of the hilltop compound in Jerusalem's Old City known to Jews as the Temple Mount and to Muslims as the Noble Sanctuary or Al Aqsa Mosque. Palestinians and Israelis have clashed there in the past.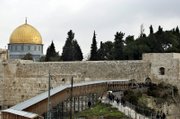 The dig is meant to ensure no important artifacts are damaged by the walkway's construction, which is expected to be completed in eight months. Such exploratory digs are required by Israeli law in the ancient city.
On Tuesday, the first day that workers began dismantling the original ramp, security forces were on high alert. Police spokesman Micky Rosenfeld said 2,000 officers were stationed around the Old City and east Jerusalem, more than double the normal deployment.
Police also prevented tourists from entering the site, and restricted access for Muslim men to Israeli Arabs and east Jerusalem residents over age 45.
There were no disturbances at the site, but Palestinian protesters threw stones at police in three other parts of Jerusalem, causing no injuries, police said.
Copyright 2018 The Associated Press. All rights reserved. This material may not be published, broadcast, rewritten or redistributed. We strive to uphold our values for every story published.