Sometimes, after a long day spent taking care of her three children, Susie Wilson likes to know there's a home-cooked meal just waiting for her in the freezer.
Wilson has jumped on a nationwide craze that's finding its way to Lawrence: meal assembly services, which help clients prepare ready-to-cook dinners.
"It's the convenience of having a meal already put together," says Wilson, who has bought food from two different services. "There's not a whole lot of thinking what you have to get at the store."
One meal-assembly business, Blue Plate Dinners, recently opened at 4931 W. Sixth St., in the former Westside Deli location. Another, a franchise of the regional company Social Suppers, is scheduled to open in March at 3514 Clinton Parkway, which formerly housed Mr. Gatti's.
The businesses basically work the same way. Clients sign up to attend sessions at which they assemble meals into packaging that can be frozen. Most of the ingredients already are prepared, meaning onions are chopped or hamburger already is browned.
At Blue Plate Dinners, the 12- meal package costs $199, and the eight-meal package costs $149. Each meal serves four to six people. Social Suppers' meals are similarly priced.
Rachel Wydeven Oliverius, who co-owns Blue Plate Dinners with Lori Johns, says with a high percentage of Lawrence residents commuting, she thinks the concept will work well here.
"We've had all kinds of populations," Wydeven Oliverius says. "The concept is really great for people who love to cook, but they're trepidatious about it. It opens their palate to tastes they might not usually try."
Two of the most popular meals so far have been Italian chicken breasts and Cuban picadillo.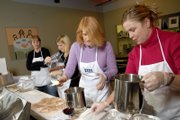 "We try to vary the meals," Wydeven Oliverius says. "We try to balance something exotic with some meals that are more basic."
Johns adds: "It's a challenge to make family-friendly meals for the kids and make them interesting for adults."
Many customers choose to make the meal assembly a social event. Wilson, for example, went with about 10 friends who typically get together to play Bunco.
"You don't have to do any dishes," Wilson says. "You can hang out with your friends and drink a glass of wine."
Blue Plate Dinners also offers already-packaged meals for walk-ins to pick up. Social Suppers plans to offer a similar option when it opens next month, says Barclay Hagen, the store's owner.
She's pretty sure Lawrence residents will embrace the concept.
"It's huge in Johnson County - it seems like there's one on every block," she says. "Lawrence needs this - just the fact it's such a huge trend right now, and the fact Lawrence doesn't have one. I know a ton of people in Lawrence who either go to the ones in Kansas City or Topeka."
Hagen says the quality of food is just like having a home-cooked meal.
"It still feels like you're cooking dinner for the whole family," she says. "It's not getting McDonald's or pizza. There's that hands-on involvement."
Time will tell if Lawrence can support two meal-assembly businesses. But Johns, of Blue Plate Dinners, says she's encouraged so far.
"We feel pretty confident about it," she says. "We've been pretty busy."
Copyright 2018 The Lawrence Journal-World. All rights reserved. This material may not be published, broadcast, rewritten or redistributed. We strive to uphold our values for every story published.