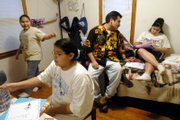 Lester Big Goose Jr. didn't have any warm words Tuesday for President Bush's proposed $2.9 trillion budget.
Bush's plan includes a 56 percent cut in a federal energy assistance program. That cut could mean colder winters for Big Goose and his children.
"It's not surprising, coming from Bush," said Big Goose, a Kansas University senior who is a single father with three children. "It's something that's going to hurt a lot of low-income people like myself."
The Low Income Home Energy Assistance program would take a big hit under Bush's fiscal 2008 budget proposal. The program - which helps the elderly, people with disabilities and families with children - would be slashed from $3.2 billion to $1.8 billion.
About 50,000 Kansas households applied for the program last year and about 42,000 qualified for some assistance, said Lewis Kimsey, energy assistance director for Kansas.
Kimsey, who works for the Kansas Department of Social and Rehabilitation Services, said he wasn't sure what effect the proposed decrease in funding would have.
"Generally speaking, in broad terms, anybody that qualifies would receive a benefit," Kimsey said.
Kimsey predicted that if the number of families requesting aid remained the same, the average benefit would decline. Last year, the agency provided an average of $554 per family. Funding is largely based on income guidelines. To qualify for assistance, households need to have incomes at or below 130 percent of the federal poverty level, he said.
'Significant reduction'
Last year, there were 1,308 applications from Douglas County for the program, said Abbie Hodgeson, director of communications for Lawrence's SRS office.
Hodgeson said so far, 317 local households had applied for the program this year. Applications are being accepted until March 30, she said.
Hodgeson said the Bush budget's proposed 56 percent cut is only a recommendation.
"While it is a recommendation, if that were to be approved by Congress, it would mean a significant reduction in the amount we could provide to households as well as the number of households we could serve," she said.
'Tremendous' impact
Jeannette Colyer is coordinator for ECKAN, an agency that serves the low-income population in Douglas and surrounding counties.
She said the proposed funding cuts would hurt many local families.
"I have spent all day and will be spending most days until the end of March assisting families and individuals with their utility bills," Colyer said.
She said her own natural gas bill is higher than it has been in the last 12 years.
"The impact on individuals with fixed incomes is tremendous," she said. "I'm seeing people about every half hour Monday through Friday to process Warm Hearts applications, which is for our local program supported by Aquila and private donors, and also referring people for LIEAP, the federal program."
Warm Hearts, which provides households up to $350 a year in help for heating bills, is funded through the Aquila Cares program and private donations. Aquila is Lawrence's natural gas utility.
"It is taking the combination of both programs to actually provide the energy assistance that people need to get through the winter," Colyer said.
How Bush's budget affects Lawrence
Getting through
One of those still planning to apply for assistance is Big Goose.
"I'm going to be applying and filling out the papers," Big Goose said. "We need to heat our home for the rest of the winter."
Big Goose said his heating bills now run about $80 to $90 a month.
"I try to turn off the heat as much as possible. And at night I try to make sure my daughters have blankets," Big Goose said. "I went to an agency to get some quilts to make sure they all have quilts so we don't have to use as much heat at night."
As part of the requirements to earn a degree in social work, Big Goose works at the local ECKAN office.
After he graduates in May, Big Goose said he likely wouldn't need such services but others would.
"There are a lot of other families and clients who come through here who depend on that to help them get through the winter," he said.
Copyright 2017 The Lawrence Journal-World. All rights reserved. This material may not be published, broadcast, rewritten or redistributed. We strive to uphold our values for every story published.