College Station, Texas — Sure, freshman Kevin Durant is one of the best players in the country. Turns out Texas A&M; has three youngsters who deserve some attention, too.
Sophomore guard Josh Carter scored 24 points, and freshmen Donald Sloan and Bryan Davis combined for 19 to lead the sixth-ranked Aggies past Texas, 100-82, on Monday night.
Texas A&M;, coming off a big win at then-No. 6 Kansas on Saturday, won its 21st straight home game and maintained sole possession of first place in the Big 12.
"Three guys grew up a lot," A&M; coach Billy Gillispie said. "That's what I believe Josh can be on a daily basis. You know he's going to make shots if he gets them."
Acie Law IV added 21 points and tied a school record with 15 assists for the Aggies.
Durant had 28 points and 15 rebounds to lead the Longhorns (16-7, 6-3 Big 12), but the Aggies finally found some scoring punch to go with one of the nation's stingiest defenses - and that was too much for Texas and its super freshman.
Durant set a Longhorns freshman record with his 14th double-double. The previous mark was held by Ron Baxter, who had 13 in 1976-77.
Texas A&M; (20-3, 8-1) led, 69-63, when Law hit the court hard and had to be helped to the locker room, biting his jersey in pain because of an ailing leg. The record crowd of 13,196 that included Texas Gov. Rick Perry chanted "A-cie! A-cie!" as he left the court.
With Joseph Jones already on the bench with four fouls, the Aggies were left to depend on Sloan (11 points) and Davis (eight).
The pair came through. Sloan kept Durant in check and Davis added four points until Law returned about three minutes later.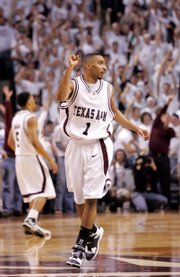 "Sloan and Davis received a lot of attention before they got here and they showed you why tonight," Gillispie said. "They've got great freshmen over there, but I believe we've got a few guys ourselves. I'm really proud of those guys stepping up in such a big game."
Even Law, A&M;'s senior point guard, was impressed.
"They're just maturing right before our eyes," Law said. "These past few games they've been playing extremely well and tonight on the biggest stage, in one of the biggest games for Texas A&M;, they played their best."
A three-pointer by A.J. Abrams and two free throws by D.J. Augustin cut A&M;'s lead to 76-73, but the Longhorns got no closer. Augustin finished with 23 points and nine assists.
"We couldn't guard them," Gillispie said. "Augustin is great. They're all good and they're fast and just hard to deal with. We just couldn't keep them out of the paint."
Sloan continued to impress even after Law returned, capping a 7-2 run with his basket that made it 83-75.
Copyright 2018 The Associated Press. All rights reserved. This material may not be published, broadcast, rewritten or redistributed. We strive to uphold our values for every story published.