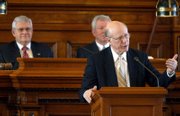 Topeka — The text of Sen. Pat Roberts' speech on a proposed national biodefense site, as prepared for delivery Monday to a joint session of the Kansas Legislature:
Speaker Neufeld, President Morris, Minority Leaders McKinney and Hensley, distinguished members of the Kansas House and Senate, my friend and colleague, 1st District Representative Jerry Moran, fellow Kansans: It is a distinct honor to appear before you today to discuss one of the most exciting scientific and economic development opportunities ever to come before the state of Kansas.
Rarely do we have the opportunity to work together on a project so large, that we can honestly say it has the potential to impact the lives of all Kansans, our children and grandchildren, and the economy of the state for years to come. I am here today to discuss such a once-in-a-generation opportunity.
Kansas is currently one of 12 states, encompassing 18 sites nationally, under consideration by the Department of Homeland Security for selection as the future home of the National Bio and Agro-Defense Facility. This competition is so fierce that I understand we have guests in the balcony from other competing states, monitoring these remarks. Let me welcome you to Kansas. Take good notes. Spend money. Wear a warm coat.
And let's just let them in on a little secret. Well over a year ago, in 2005, when Congress first put money in the budget for this project, I saw the opportunity and began to visit with Kansas officials about the possibility of bringing this facility to the state. Now, two years later, we have developed strong partnerships across this state, and we are off to a very promising start.
Kansas has proposed that this new research center, which will replace the aging federal lab located on Plum Island adjacent to New York, be located in either Manhattan or Leavenworth.
Let me be clear: This facility will be the premier biosecurity research laboratory in the nation and the world. It will be a $451 million, 500,000-square foot building that will create as many as 500 high-paying, scientific federal jobs in the state of Kansas, not to mention the additional jobs it would create through additional research partnerships in the state.
Over a 20-year period, it is estimated that the facility would have a $3.5 billion impact on the Kansas economy. That is billion with a "B." And, the four- to five-year construction time line for the facility is expected to create 1,500 construction jobs.
The building will be one of the most technologically advanced labs in the world. It would be a gem on the Kansas prairie.
We cannot underestimate the tremendous economic impact this facility would have on Kansas, nor the effect it would have on high level, scientific and bioscience research throughout the region.
Tough competition
The Department of Homeland Security will visit the sites currently under consideration this spring and will name the finalists for the facility this summer. We can look forward to the announcement of the final site in late summer or early fall 2008.
While the competition for this facility will be tough, and I don't want to downplay the work or the challenge that is ahead of us, I can say with complete confidence that Kansas is already well-positioned to compete.
We have a state heavily invested in the agriculture economy with a long-standing history of supporting research to better this industry.
The Kansas City area has an animal health and life sciences corridor that is second to none with over 125 companies, 37 with global headquarters, located in the area. This number includes four of the 10 largest global animal health companies in the world. Together, all these companies represent 27 percent of total U.S. sales and 30 percent of global sales in a $14.2 billion animal health market.
There is no location in the world that is doing more advanced research in the areas of animal health and vaccine research. And, there are no other sites in the nation, under consideration, that have such an agricultural and animal research base already in place that can serve as the foundation for this building.
In addition, Kansas has already shown that it is committed to this level of research through the recent construction of the Biosecurity Research Institute at Kansas State and the new Life Sciences Innovation Center at the University of Kansas Medical Center.
Not only have we demonstrated that we are supportive of this type of facility, we have shown that we know how to build it on time and on budget. This is what Kansas accomplished with the $54 million Biosecurity Research Institute building at Kansas State. No other state in the nation can make a similar claim or statement.
Strong support
I mention these facts because it has been made clear to me by Homeland Security officials that one of the biggest factors in locating this new facility will be community, state and local support.
Given that there is strong competition from other locations, the current advantage and support we enjoy on this front is one we must maintain. To do so will take a coordinated effort on a daily basis.
This is why I am so pleased with the work of the Kansas Bioscience Authority on behalf of this endeavor. The actions of our Bioscience Authority will be crucial as we move forward, and I thank our Chairman Clay Blair and our President and CEO Tom Thornton for their efforts on this front.
I also applaud Governor Sebelius for making clear in her State of the State address that landing the National Bio and Agro-Defense Facility is the number one bioscience priority for the state.
As a result, Governor Sebelius has established a Blue Ribbon Task Force to help the bioscience authority lead this effort. I am honored that she has asked me to serve as the Honorary Chairman of the task force, and I accept that task enthusiastically.
As the Honorary Chair, I pledge to you and all Kansans my commitment to continuing my efforts on the federal level to bring the National Bio and Agro-Defense Facility to Kansas.
This past November, I expressed to Department of Homeland Security Secretary Michael Chertoff the strong advantages of locating this new federal lab in Kansas. The merits are on our side.
In January, we hosted the Homeland Security adviser for Department of Agriculture Secretary Johanns here in Kansas and demonstrated the state's existing capabilities with a tour of the facility in Manhattan.
And today, in fact, a member of my staff is helping to host a top official from the Department of Homeland Security who is getting briefed on our state's proposal.
The reason for these visits is simple. I want to showcase everything Kansas has to offer. There is no doubt in my mind we are the best possible site for this research lab. The merits are on our side.
This is the same approach we used during the military base closing process when we invited numerous Defense Department officials to tour our Kansas military installations. We put together a great team. It worked then, and I am convinced it can work again.
Heart of the country
It is important that we continue to emphasize all of our important attributes. Included is our heartland location. This attribute is important for two key reasons.
First, we are located in the center of agriculture country. If you are going to conduct security research on ways to protect agriculture and food security in this country, and throughout the world, you ought to put the facility where you can work with the people most directly involved and experienced in the industry, not somewhere on the east or west coasts.
Second, our location means that you can fly to virtually anywhere in the United States in three hours or less. If you want to coordinate national research, it only makes sense to build the facility in an area that is centralized to researchers throughout the nation.
While our central location and past state support in financing the building of the Biosecurity Research Institute are both important, there is another vital fact that we must continue to emphasize and re-emphasize with those that will make this decision.
Kansas is one of the few areas under consideration, if not the only one, where a facility is already available that the Department of Homeland Security could walk into and begin research in 2008, a full five to seven years ahead of the construction schedule that will otherwise take place. The merits are on our side.
Current Homeland Security plans call for keeping the Plum Island facility in operation while construction on the new lab, currently scheduled to be completed between 2013 and 2015, occurs. The Plum Island facility is in serious need of repairs. The possibility of closing it early should appeal to the federal government.
If Kansas is chosen, regardless of which site was selected, Leavenworth or Manhattan, we have the capability to provide a first-class, brand-new facility for agriculture and food security research where research can begin almost immediately. No other state can offer that incentive. The merits are on our side.
While we have much working in our favor, we must realize that there are no guarantees in this competition. All states are competing just as hard as Kansas and landing the site will be difficult for any finalist.
We have to put a proposal and the incentives on the table that proves Kansas will support this effort. That means financial incentives - in the form of local cost-share proposals by Leavenworth and Manhattan. In fact, this is a requirement that the Department of Homeland Security has included for the competition.
This is an area where I believe the Kansas Bioscience Authority can, and will, step up to help these communities provide the backing necessary to bring this lab to Kansas.
The key point is that the Department of Homeland Security needs to know Kansas is serious about its commitment to the National Bio and Agro-Defense Facility and has a plan to get the job done.
The Kansas Bioscience Authority will be working with these communities to put together a proposal that leaves no doubt we are serious, and if necessary, we must all be willing to do what it takes to stand together as Kansans, and back them up.
Yes, a plan such as this will take resources. But, that should not stop us. Just remember: The merits are on our side.
Funding not an issue
I want to be clear that I am not here today asking the Kansas Legislature to appropriate funds for this effort. You have already done your part.
Six years ago, I stood before a joint session of the Kansas House and Senate Appropriations Committees. At that time, I said that Kansas was at risk of losing its ability to compete for high-tech and scientific jobs due to a lack of world-class research facilities at our state universities.
I challenged you then to make the commitments necessary to make Kansas a player in these areas, along with President Beggs of WSU, Chancellor Hemenway of KU and President Wefald of KSU and with Senator Steve Morris and Representative Kenny Wilk riding shotgun.
And, you did just that. In large part, due to your actions, the Biosecurity Research Institute was built at Kansas State, the Life Sciences Innovation Center at KU Med Center was recently completed and an aviation research facility is planned at Wichita State.
I am absolutely convinced that the fact that Kansas remains under consideration for this facility is in no small part due to the commitment of the Kansas Legislature and our Kansas universities to build these world-class facilities.
Because of your actions and willingness to support the construction of these buildings, we have the opportunity to be considered for this important federal laboratory.
Seize the moment
There is no doubt. Securing this facility would be one of, if not the greatest economic development initiatives in state history.
It will spur research and development that will expand existing research, while creating new avenues for the life sciences, agriculture, security and technological research and innovation in Kansas.
It will mean jobs. And they will be the kind of jobs that will encourage our young people to stay in Kansas and increase their standard of living. It is a key to the economic future of Kansas.
If it happens, future generations of Kansans will have economic opportunities available to them that are currently unimaginable or available only outside the border of Kansas.
We must seize the moment. I ask you to join me, Governor Sebelius, Speaker Neufeld and President Morris, Leaders McKinney and Hensley, the Task Force, the Kansas Congressional Delegation, the Kansas Bio-Science Authority and all Kansans in working to bring this facility to Kansas.
It will not be an easy task. But it can be done. The merits are on our side.
Speaker Neufeld, President Morris, it has been my honor and privilege to speak here today and I thank you for this opportunity. Let us work together for the future of this great state.
Copyright 2018 The Associated Press. All rights reserved. This material may not be published, broadcast, rewritten or redistributed. We strive to uphold our values for every story published.