Seabury Academy girls basketball coach Nick Taylor summed up Monday's game against Burlingame in just one word - "Wow!"
But it wasn't a good "wow" coming from a frustrated Taylor. His team had just suffered a 36-21 loss, ending a four-game winning streak.
"You've just got to try to take a deep breath on those ones (games)," Taylor said. "We were pretty soft tonight on defense. We didn't have any defensive pressure, no defensive intensity, and it showed on the scoreboard."
The Bearcats turned the ball over 15 times, but only twice was it a result of a steal by the Seahawks.
Conversely, Burlingame picked Seabury's pockets 17 times, with the Seahawks turning it over another 12 times on their own.
The turnover issues, combined with the effort on the blocks, made for one distraught coach.
Even with the tall tandem of Melissa Burch, who had a game-high 21 rebounds, and Molly Thurman, who had seven rebounds to go with a team-high 10 points, Seabury mustered only a 42-38 rebound advantage and allowed 14 offensive rebounds to smaller team.
"When you come down the court and you turn the ball over and then you don't hustle back to get the rebound, that's a recipe for disaster," Taylor said. "I counted at least three times where we turned the ball over and just jogged down the court and they miss the layup and they get a second opportunity because nobody was running down to get the rebound.
"If we're going to do anything in regionals, we're going to have to pick up the defensive pressure and defensive intensity - and we have to take care of the ball. We can't turn the ball over as many times as we're turning it over every night, and it's just not looking good right now."
Burlingame 72, Seabury Academy boys 57
The Seabury boys' defense was also unable to put much pressure on Burlingame.
The visitors finished with just seven turnovers. Even more impressive, they only had one in each of the final two quarters.
Photo Gallery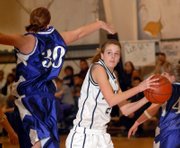 Seabury vs. Burlingame girls
"We tried all of our presses on them and they really just didn't give the ball up," Seahawks coach Matthew Downing, Jr. said. "And we didn't want to press so much to where we would leave guys open for those open shots that they were making. So we changed it up and tried to show a few different presses to them, but obviously those didn't work to creating turnovers."
Along with the inability to force turnovers, Seabury also suffered from the Bearcats knocking down nine three-pointers.
"We knew that they had some good shooters coming into the game," Downing said. "But I wanted a few of them to prove it, and they did in the first half."
One bright Seabury highlight was the performance of Scott King, who finished with a game-high 20 points despite missing the final minutes after fouling out.
"It was just falling for me tonight - I don't know what it was," King said. "I told the guys before the game I was feeling it during the warmups."
Max Cannon and Tim Stuart also finished in double digits, Cannon scoring 14 points off five baskets while Stuart came up with 11 points on five buckets.
Although King's points came in the paint, it just wasn't enough for Downing.
"I wish we would have gone inside just a little bit more and take some easier shots," Downing said. "And just kind of chip at the lead before we start trying to rain threes."
Both squads will have no time to dawdle over the losses as they head to Wetmore today - a team in the Seahawks' Class 1A regional come postseason play.
Copyright 2018 The Lawrence Journal-World. All rights reserved. This material may not be published, broadcast, rewritten or redistributed. We strive to uphold our values for every story published.