Jakarta, Indonesia — The scenes were eerily reminiscent of New Orleans after Hurricane Katrina.
Residents of Indonesia's capital waded through poor neighborhoods in water up to their necks, or floated on makeshift rafts bearing clothes and other salvaged possessions. Some scrambled onto roofs to await rescue from soldiers and emergency workers in rubber dinghies from floodwaters as deep as 12 feet.
Landslides and flash floods during the wet season kill hundreds in Indonesia every year, and this city of 12 million people is not immune. But it has rarely - if ever - seen floods as bad as those in recent days. The high water washed into rich and poor districts alike, inundating scores of markets, schools and businesses.
On Monday, filthy brown water flooded large parts of Jakarta, forcing 340,000 people from their homes and cutting off power and clean water in the city. At least 29 people have died after days of torrential rain.
Wealthy residents flocked to upscale hotels as vacant rooms grew increasingly scarce.
In the poorest districts, waters washed away scores of shacks.
But rising along with the water was the threat of diseases such as diarrhea and dysentery. Also increasing were complaints and anger about the response to the floods by local officials.
"The government is awful," said Augustina Rusli, who spent four days on the second floor of her suburban house with her 10-month-old baby. "We have a neighbor who is sick with cancer, but no one has come to rescue her."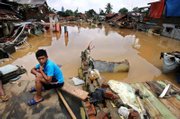 Authorities estimated between 40 percent and 70 percent of the city, which covers an area of more than 255 square miles, had been submerged.
Hundreds of thousands of residents remain without electricity and clean water.
Skies cleared Monday and floodwaters receded in some parts of the city. Residents of some districts were able to begin cleaning out their homes, witnesses and media reports said.
But Indonesia's meteorological agency predicted more rain in the coming days, and officials warned that more floods were possible because river levels were still high.
Copyright 2018 The Associated Press. All rights reserved. This material may not be published, broadcast, rewritten or redistributed. We strive to uphold our values for every story published.