Miami — Tony Dungy took the congratulatory phone call from President Bush Monday morning, heard the questions about being a pioneer and belonging in the Hall of Fame, and through it all he was gracious - isn't he always?
All the issues coaches typically address when their careers are over were on the table for Dungy the day after the Colts beat Chicago, 29-17, in Super Bowl XLI.
But despite speculation and rumors to the contrary, the final chapter of Dungy's career likely isn't written.
"Every year probably in the last three or four years, I've kind of evaluated where I am at the end of the year," Dungy said at a news conference at the Miami Beach Convention Center. "I still have a lot of passion for the game, a lot of enthusiasm. After a night like last night, how can you not love it?
"So I'm not burned out. I'm not tired at all. I'm very, very fired up and looking forward to coming back. But I'll evaluate it, and we'll see where we go. Generally after a couple of days you feel like everything is rolling, and I do look forward to helping these guys defend this title."
That's good news for Indianapolis, where a frigid victory parade was held for the NFL's hottest team in the afternoon.
But that's not such great news for the rest of the AFC. Las Vegas already has installed the San Diego Chargers as favorites to represent the conference in Super Bowl XLII in Arizona next year, but has also made the Colts a good bet to repeat.
"Next year, no question, there could be personnel changes, there could be coaching changes - we have assistant coaches interviewing for head jobs," said quarterback Peyton Manning, the Most Valuable Player of Sunday's game at Dolphin Stadium.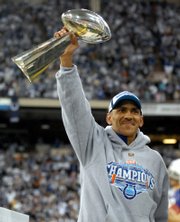 "Certainly since coach Dungy's arrival here he's brought his philosophy and winning ways. I can remember his first meeting, and I'm a big note taker, and I wrote down all of his goals and his philosophies and concepts. And I still have that same notebook, and I still refer to it. The team just bought in right away."
Dungy has proven that a coach can win without muzzling his assistants, without assailing the media, without barking at players or spewing expletives. He has proven that a black man can win even though none had before.
And that's the reason he was fielding questions about his legacy and being a pioneer.
"A guy asked me that question last night, 'How did I think of myself compared to Jackie Robinson' and it really kind of floored me," Dungy said.
"But when I stopped to think about the magnitude of the moment and Super Bowls and how difficult it is and the fact that being the first African-American to win a Super Bowl, it was a valid question.
"I certainly don't think I've done anything as difficult as Jackie Robinson did or anything that would even be in that light. But it's a very, very proud moment. And as I said last night, I really feel there were so many guys that could have done this, if given the opportunity."
Copyright 2018 The Lawrence Journal-World. All rights reserved. This material may not be published, broadcast, rewritten or redistributed. We strive to uphold our values for every story published.