Orlando, Fla. — An astronaut drove from Houston to Florida, donned a disguise and confronted a woman she believed was romantically involved with a space shuttle pilot she was in love with, police said. She was charged with attempted kidnapping and other counts.
U.S. Navy Capt. Lisa Nowak, 43, who flew in July on a shuttle mission to the international space station, also was charged Monday with attempted vehicle burglary with battery, destruction of evidence and battery. She was denied bail.
Police said Nowak drove from her home in Houston to the Orlando International Airport - wearing diapers so she wouldn't have to stop to urinate - to confront Colleen Shipman.
Nowak believed Shipman was romantically involved with Navy Cmdr. William Oefelein, a pilot during space shuttle Discovery's trip to the space station in December, police said.
Nowak told police that her relationship with Oefelein was "more than a working relationship but less than a romantic relationship," according to an arrest affidavit. Police officers recovered a love letter to Oefelein in her car.
NASA spokesman James Hartsfield in Houston said that, as of Monday, Nowak's status with the astronaut corps remained unchanged.
"What will happen beyond that, I will not speculate," he said.
Hartsfield said he couldn't recall the last time an astronaut was arrested and said there were no rules against fraternizing among astronauts.
When she found out that Shipman was flying to Orlando from Houston, Nowak decided to confront her, according to the arrest affidavit. Nowak drove the 900-mile trip from Houston to Orlando wearing diapers, police said.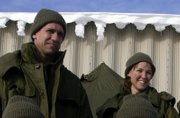 Astronauts wear diapers during launch and re-entry.
Dressed in a wig and a trench coat, Nowak boarded an airport bus that Shipman took to her car in an airport parking lot. Shipman told police she noticed someone following her, hurried inside the car and locked the doors, according to the arrest affidavit.
Nowak rapped on the window, tried to open the car door and asked for a ride. Shipman refused but rolled down the car window a few inches when Nowak started crying. Nowak then sprayed a chemical into Shipman's car, the affidavit said.
Shipman drove to the parking lot booth, and the police were called.
During a check of the parking lot, an officer followed Nowak and watched her throw away a bag containing the wig and BB gun. They also found a steel mallet, a 4-inch folding knife, rubber tubing, $600 and garbage bags inside a bag Nowak was carrying when she was arrested, authorities said.
Copyright 2018 The Associated Press. All rights reserved. This material may not be published, broadcast, rewritten or redistributed. We strive to uphold our values for every story published.