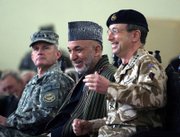 Kabul, Afghanistan — Gen. Dan McNeill, the highest ranking U.S. general to lead troops in Afghanistan, took command of 35,500 NATO-led soldiers on Sunday, putting an American face on the international mission after nine months of British command.
The transition comes after a year of sharply increased violence following the alliance's push into the Taliban's southern heartland, and military officials said privately they expect McNeill to take a harder line with militants than his predecessor, Gen. David Richards.
Richards backed a peace deal in the southern town of Musa Qala that crumbled in his last days in command when an estimated 200 Taliban fighters overran the town on Thursday. NATO said a targeted airstrike Sunday killed a key Taliban leader causing the upheaval.
One American military officer who labeled McNeill a "warfighter to the bone" said his arrival likely signals the end of such deals, saying they would go under "much greater scrutiny." The official asked not to be identified because of the sensitivity of the issue.
A senior Afghan military official, meanwhile, said the Defense Ministry expected McNeill to implement a policy of "strong military action." Other American officials said they expected a stronger approach under McNeill without specifying what that would be.
The appointment of McNeill, one of only 11 four-star generals in the Army, raises the profile of the American mission here two weeks after the Defense Department extended the tour of 3,200 10th Mountain Division soldiers.
There are now 26,000 U.S. troops in Afghanistan, the highest number ever. About 14,000 American forces fall under the command of NATO's International Security Assistance Force; 12,000 troops focused on training Afghan forces and special operations fall under the U.S.-led coalition.
By comparison, there were only about 9,500 troops in Afghanistan in 2002, the year after the Taliban's ouster.
McNeill is a veteran of five foreign conflicts, from Vietnam to Afghanistan, where he served in 2002-03.
Copyright 2018 The Associated Press. All rights reserved. This material may not be published, broadcast, rewritten or redistributed. We strive to uphold our values for every story published.