Pinch the Firebirds.
Free State High's boys basketball team, riding a roller coaster all season, shocked previously unbeaten Shawnee Mission East, 67-60, in an overtime thriller Saturday night in the FSHS gym.
"This is probably the best win Free State has ever had," an ecstatic coach Chuck Law chirped afterward.
Free State appeared dead in the water after three quarters, lagging by 11 points. For all intents and purposes, the Firebirds were on their way to becoming the Lancers' 13th straight victim.
That's what Law laid down the law.
"I barked at them," he said. "They were down. Their heads were down. I told them we had to believe, and then we started to believe."
With 2:51 remaining in regulation, the Firebirds caught the Lancers at 51-51 on a driving layup by guard Kris Wilson. A pair of Michael McRoberts' free throws pushed SM East into a 53-51 lead, but Free State forced overtime on Weston Wiebe's stick-back of a Wilson miss.
SM East had the last crack, but a McRoberts' jumper bounced away at :02, forcing the extra period.
Free State nailed its first three shots of OT and with 1:31 remaining appeared to have a commanding 60-55 lead. Just 24 seconds later, however, the Firebirds were nursing a 60-58 lead.
Then, with 53 ticks remaining, Craig Rosenstengle went to the free-throw line.
Photo Gallery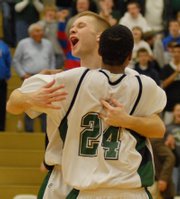 Free State boys vs SM East
"In the last week and a half I've worked with Rosey on his foul shooting," Law said. "He hit 15 in a row in practice, and he brought the same confidence tonight he had on the football field."
Rosenstengle, who was the Firebirds' leading receiver last fall, nailed both charities to rebuild a cushion.
Nervous? Not Rosenstengle.
"Playing at home," the 6-foot-2 junior said, "I just shot 'em."
Moments later, Kyle Schreiner would sink the clinchers. SM East's McRoberts misfired following Rosenstengle's free throws, and the Lancers fouled Schreiner with :36.2 showing.
"I knew they would come back on us," Schreiner said, "and we survived that. We just had to be mentally tough and make free throws."
Schreiner sank them both, then it was Rosenstengle's turn again at :23.3. He made one of two. Finally, with 12 ticks to go, Wilson contributed two more.
In the last minute, the Firebirds made seven of eight free throws. In other words, they did what they had to do down the stretch.
"I think that's the best we've played this year," Rosenstengle said. "That fourth quarter was the best we've played."
Wilson and Anthony Russell, a pair of junior guards, paced the Firebirds (8-6 overall, 3-2 Sunflower League) with 13 points apiece. Russell drained three three-point goals - two in the fourth quarter and one in overtime.
"Russell's threes were huge," Law said. "They really gave us a lift. We fed off those."
At the same time, the Firebirds clamped down on defense. During the first three quarters, SM East was killing the Firebirds with layups and baseline baskets. The Lancers had taken 33 shots and made 21 for a gaudy 64 percent.
But SM East (12-1, 4-1) made only two of its last 14 attempts. The Lancers, ranked No. 2 in Class 6A by the Kansas Basketball Coaches Assn., also had the yips at the foul line, converting just seven of their last 15 attempts.
"This win means a ton," Law said. "I've been trying to get them to believe all season, but they needed affirmation, and I think tonight may have been that affirmation."
The Firebirds have two home games scheduled next week - Tuesday against SM Northwest and Friday against Leavenworth.
Copyright 2018 The Lawrence Journal-World. All rights reserved. This material may not be published, broadcast, rewritten or redistributed. We strive to uphold our values for every story published.