-->
The 50-plus members of the popular College GameDay "traveling circus," as coordinating producer Tom Reilly calls it, began trickling into town Thursday, but the face of ESPN's pregame show isn't scheduled to arrive until today.
Jay Bilas, armed with deep knowledge, a sarcastic wit, and the ability to talk to college basketball fans without talking down to them, won't be bringing a shtick with him for the simple reason he doesn't have one.
A four-year (1983-86) starter at Duke University, Bilas played in a national title game and was an assistant to coach Mike Krzyzewski (1990-92) on two national title teams while going to law school. He earned his law degree in 1992 and decided to leave coaching for litigating because it lent itself better to a stable family life.
While practicing law, Bilas displayed the courage that has served him well as an analyst who expresses his opinions freely. He was representing a client who owned a costume shop and was accused by the creators of "Barney" of ripping off the purple dinosaur costume.
"Our children were little then," Bilas said by phone from his Charlotte home. "I went to law school thinking I'd be trying First Amendment cases, and here I was fighting their hero."
During the case, which Bilas won, the Barney camp explained it didn't bring the costume into court because it was too big. Asked how big, the response was 6-foot-5.
At that point, Bilas stood up and said, "Your honor, I'm 6-7 and I can get in here no problem."
It's that sort of blend of presence, confidence, wit and sense of timing that makes Bilas the backbone of the show that is driven by ESPN's Rece Davis. Former Notre Dame coach Digger Phelps and former North Carolina and NBA sharp-shooter Hubert Davis also join Bilas on the set.
Normally, the men sit on a stage built in the stands. For the Saturday 10 a.m. show, they will sit in director's chairs at center court in Allen Fieldhouse, Reilly said. For the 7 p.m. show, they will be on chairs in front of the band on the south end of the Allen Fieldhouse court.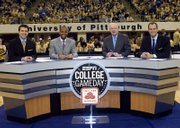 Fieldhouse doors will swing open at 8 a.m. for students and anyone else who wants to partake.
"I'm going to guess there are going to be about 3,000 kids," Reilly said. "We're definitely going to enlist the crowd to help us. We're going to get them to sing Rock Chalk Jayhawk and might even start the show with it."
Dick Vitale will not be there for the morning show. He will be a part of the GameNight show before joining play-by-play man Dan Shulman.
Even the most ardent KU basketball fans are bound to gain a new way of looking at their favorite team if they listen closely to what Bilas has to say above the din generated by what is sure to be a raucous crowd.
Any verbal arrows sent Bilas' way for favoring Duke on the air won't be based in fact. Bilas plays it straight. He said that's just the way Krzyzewski advised him to approach it.
"Coach K told me years ago, 'Don't ever pull any punches because if you do that, when you say what you mean, people won't believe you. And don't be over the top.' It was his way of telling me not to be afraid to say what I think and don't cut us any breaks," Bilas said. "At the same time, don't bend over backwards to try to prove you aren't cutting us any breaks. I have a lot of friends (in college basketball), and I don't cut any of them a break."
Bilas didn't hold back when the show, which is in its third year covering basketball, featured the Kentucky basketball team's use of a sports psychologist.
"What next: Are they all going to go out and watch Brokeback Mountain together and have a good cry?" Bilas cracked.
Looking back on that, Bilas said, "That had nothing to do with the subject matter, just that it was a love story, a tear-jerker. My point was sometimes you just need to knuckle down and play."
Phelps counters Bilas' cerebral approach with more of an eye toward flashy entertainment. He always color coordinates his tie and highlighter, a trademark that ESPN "Pardon the Interruption" host Tony Kornheiser has dubbed the "tie-lighter."
"It's something Digger has always done as part of his organizational scheme," Reilly said. "He color-coordinates his information cards, his stack cards, and he has all these different markers he matches with his ties."
Audio Clips
2006-07 Jan. 31 KU hoops presser
Andy Katz handles the "Living the Life" segment of the show. It's an on-campus feature with one of the stars from the home team. This week, it will feature Katz bowling with KU sophomore forward Julian Wright.
That is sure to be a hit with KU fans, just as this week's Phelps feature, which may or may not work nationally, is sure to fall flat with Kansans weary of Wizard of Oz references.
"The Digger of Oz," Reilly said. "When you're in Kansas and you need answers, you are off to see the wizard, the mighty and powerful Oz."
In that segment, Digger will give pointers on how Kansas can avoid another first-round elimination, Reilly said.
"We're all different, but the one thing we have in common is we have great passion for the game of college basketball," Vitale said from his home in Sarasota, Fla. "We've got Bilas, the Duke defensive dynamo. Hubert, the jumpshooter. Digger, the politician. Rece Davis is Peyton Manning, setting us all up. I've got no speed. I'll be Fred Biletnikoff, running down and outs. By the way, speaking of Peyton Manning, he's going to lead the Colts to victory in the Super Bowl, 28-21. Sorry, Bear fans."
Before that all-day TV show/sporting event from Miami, the TV show/sporting event in Lawrence will be the main event nationally.
Copyright 2018 The Lawrence Journal-World. All rights reserved. This material may not be published, broadcast, rewritten or redistributed. We strive to uphold our values for every story published.