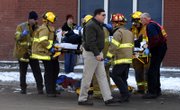 A mail carrier was taken to the hospital by helicopter following a vehicle-pedestrian accident this morning.
The accident happened around 10:15 a.m. at the intersection of Seventh and New Hampshire streets, on the north side of the Borders book store.
Lawrence Police Sgt. Paul Fellers said that a red Chevrolet truck was turning east onto Seventh Street when the truck struck a male postal worker who was crossing. Both were southbound on New Hampshire Street. The postal worker had the right-of-way, Fellers said.
The victim was identified as Jerry Totten, 56, a longtime employee for the Lawrence Post Office. Officials said he was Lawrence's only walking postman - never getting into a truck to deliver mail, instead walkling his downtown beat every day.
Totten was taken to Buford M. Watson Jr. Park at Sixth and Kentucky streets, where the helicopter landed to then fly to Kansas City for medical treatment for severe injuries. He was listed in stable condition at the intensive care unit of KU Hospital.
More details as they develop.
Copyright 2018 The Lawrence Journal-World. All rights reserved. This material may not be published, broadcast, rewritten or redistributed. We strive to uphold our values for every story published.