Photo Gallery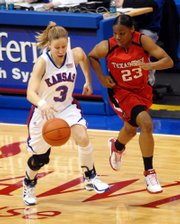 KU vs. Texas Tech women
Shaquina Mosley came close to an unusual quadruple-double.
Kansas University's women's basketball team came close to its first Big 12 Conference victory.
Close, however, counts only in horseshoes.
Texas Tech had the last ringer and squeezed the Jayhawks, 66-65, on Wednesday night in Allen Fieldhouse despite a yeoman performance from Mosley.
The 5-foot-6 senior guard posted a team-high 18 points, a career-high 11 assists, nine rebounds and, well, nine turnovers.
"I will remember the loss a lot more than how well I played," Mosley said.
Over the last five games, Mosley has become the Jayhawks' go-to player, so with eight seconds remaining and KU trailing by one, Mosley brought the ball downcourt.
The plan was for her to take the ball all the way underneath and either score or be fouled and go to the free-throw line.
"We wanted her to go to the basket," KU coach Bonnie Henrickson said, "and I thought she was going to turn the corner."
Instead, Mosley dribbled to her right, reversed and cranked up a 15-footer as the clock ran out. Her hurried shot drew iron, but no net.
Later, Mosley explained that she wanted to drive the lane, "but I pulled back because I bobbled the ball, and I didn't want another turnover."
Audio Clips
2006-07 Jan. 31 KU womens hoops
Junior forward Taylor McIntosh, who was waiting underneath for a possible stick-back, couldn't fault her teammate for switching to Plan B.
"She felt bad," McIntosh said, "but she didn't lose the game for us. I mean, she almost had a triple-double."
All it would have taken was one more rebound. No KU player is believed to have notched a triple-double since Hall of Famer Lynette Woodard back in the 1970s.
At the same time, Mosley was also one turnover shy of a triple-double - a byproduct, in part, of playing all but one minute and touching the ball on every possession.
"She shouldn't have had nine (turnovers)," Henrickson said, "but if you clock her, she has the ball a lot."
Ever since Henrickson made Mosley the centerpiece a couple of weeks ago, the Jayhawks have shown signs of improvement, and Wednesday night was as close as they've come to ending their conference skid.
"This is who we thought she would be," Henrickson said, referring to Mosley being the National Junior College Player of the Year in 2005. "We just need some other kids to step up now."
Texas Tech coach Kristy Curry tossed a bouquet Mosley's way, too.
"She's just so talented. She wants the ball in her hands," Curry said. "I love that about her. That's something that's hard to teach."
Tech, playing without senior guard Chesley Dabbs who quit the team this week for personal reasons, escaped with its second straight one-point victory. The Red Raiders (14-8, 5-3 Big 12) edged Texas, 49-48, on Saturday.
"We seem to find a way," Curry said. "I thought (the Jayhawks) played their hearts out, and we played our hearts out, but we were able to find a point more."
Kansas (6-15, 0-8 Big 12) certainly couldn't be faulted for its effort.
"Everyone in our program believes," Henrickson said. "If you go to our practices, you'd think we were 7-0."
KU still has eight more chances to pick up that elusive first league victory, starting Saturday night at Texas A&M.; The Jayhawks' next home game will be Tuesday against Colorado.
Copyright 2018 The Lawrence Journal-World. All rights reserved. This material may not be published, broadcast, rewritten or redistributed. We strive to uphold our values for every story published.