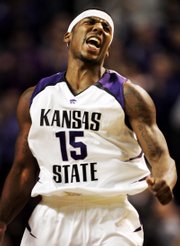 Manhattan — The last time Kansas State was winning conference games at this rate, the Wildcats played in Ahearn Fieldhouse and the Big 12 wasn't even in the planning stages.
Wednesday night's 80-73 victory over Missouri was Kansas State's fifth conference win and gave the Wildcats their first five-game conference winning streak since the Big 12 began play in 1996-97. The string started with an 85-81 victory over the Tigers on Jan. 13 in Columbia, Mo.
The Wildcats are now 5-2 in the league, behind only Kansas University, Texas A&M; and Texas. They are 16-6 overall.
Credit first-year coach Bob Huggins with changing the team's attitude, forward David Hoskins said.
"Coach Huggins doesn't want to lose any games," said Hoskins, who led Kansas State with 25 points. "Even the games that we lost, we shouldn't have lost in his eyes, and our eyes, too. He definitely has the swagger. We just follow him."
Huggins, though, said he never really has understood what "swagger" means.
"If it means 'confidence,' then our guys are definitely more confident," he said.
No. 22 Texas 76, Texas Tech 64
Lubbock, Texas - Kevin Durant scored 37 points and grabbed a season-high 23 rebounds to lead Texas.
Texas steadily pulled away from the Red Raiders, in part by pounding the ball inside for 30 points. The Longhorns went up 72-58 with 3:37 remaining, and Tech couldn't mount a comeback.
The loss was only Tech's second at home this season and prevented the Red Raiders (15-7, 4-3 Big 12) from getting their third-straight victory over a Top-25 team in Lubbock.
Texas (16-5, 6-1 Big 12) handed Tech coach Bob Knight his 11th loss to the Longhorns since he arrived in 2001. He has beaten Texas only twice.
No. 10 Texas A&M; 73, Iowa State 49
College Station, Texas - Joseph Jones scored 21 points, and Texas A&M;'s defense did the rest.
The win is Texas A&M;'s 20th straight at home and Iowa State's fifth consecutive loss.
The Cyclones (11-10, 2-5) were forced to play catch-up all night after the Aggies jumped to a 11-0 lead and never slowed down. Jones scored all but two of his points in the first half and sat for extended periods after halftime.
Copyright 2018 The Associated Press. All rights reserved. This material may not be published, broadcast, rewritten or redistributed. We strive to uphold our values for every story published.