Bloomington, Ind. — A.J. Ratliff's scariest moment came after the game was over.
Ratliff scored 18 of his season-high 20 points in the second half, and Indiana held off No. 2 Wisconsin, 71-66, on Wednesday night, ending the Badgers' 17-game winning streak.
But before Ratliff and the rest of his teammates could get off the court, several thousand delirious fans stormed out of the stands and onto the floor in celebration.
"I'm claustrophobic anyway," said Ratliff, who was quickly mobbed by the Indiana fans. "I was just trying to get to the locker room. It was funny, but it was kind of scary at the same time."
Ratliff was even scarier for the Badgers during the game. He had a pair of three-pointers during a 13-1 run and another three-pointer that gave the Hoosiers (16-5, 6-2 Big Ten) a 53-43 lead with under 10 minutes remaining.
A rebound basket by Alando Tucker, who led Wisconsin (21-2, 7-1) with 23 points, and two three-pointers by Kammron Taylor helped the Badgers tie the game at 59. But Ratliff scored six of Indiana's next eight points, including two free throws with a minute to go for a 70-66 lead, and the Badgers never recovered.
Ratliff, a junior guard who has been the Hoosiers' top scorer off the bench in the past three games and in five of the past six, hit six of seven shots, including four three-pointers, in the second half.
"I felt somebody had to step up and make a play," he said. "I felt like I was hitting all my shots and I was open, so I had all the confidence in the world."
D.J. White added 16 points for the Hoosiers, who beat their highest-ranked opponent since an NCAA Tournament upset of No. 1 Duke in 2002.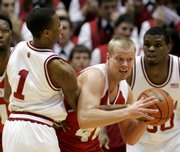 "This was a tremendous college basketball game," Indiana coach Kelvin Sampson said. "When you get down to a possession game, you've got to make baskets."
Sampson, the former Oklahoma coach who took over at Indiana for Mike Davis this season, said he wasn't worried about the crush of fans as the game ended.
"I have security guys," he joked. "I have a lot of confidence in my offensive line."
No. 1 Florida 74, No. 24 Vanderbilt 64
Gainesville, Fla. - Lee Humphrey made three consecutive three-pointers to key Florida's rally from a double-digit deficit, and the top-ranked Gators beat Vanderbilt.
No. 3 North Carolina 105, Miami 64
Chapel Hill, N.C. - Tyler Hansbrough scored 22 points and grabbed 13 rebounds to lead North Carolina past Miami.
No. 4 Ohio State 78, Purdue 60
West Lafayette, Ind. - Mike Conley scored 18 points, and Jamar Butler added 16 to help Ohio State beat Purdue and win its sixth straight game.
No. 11 Memphis 87, Central Florida 65
Orlando, Fla. - Chris Douglas-Roberts scored 23 points, and Joey Dorsey had 22 points and nine rebounds to help Memphis rout Central Florida.
Memphis (18-3, 8-0 Conference USA) led from the tip in its 10th straight win and by more than 20 most of the second half.
No. 13 Butler 71, Youngstown State 58
Youngstown, Ohio - Mike Green scored a season-high 23 points, Pete Campbell added 20, and Butler won its seventh straight, beating Youngstown State.
No. 15 Nevada 79, Louisiana Tech 71
Ruston, La. - Nick Fazekas and Marcellus Kemp each scored 20 points to help Nevada beat Louisiana Tech.
Fazekas helped Nevada (20-2, 8-1 Western Athletic Conference) fuel a 12-6 run to start the second half and extend a 31-27 halftime lead to 43-33.
North Carolina State 70, No. 16 Virginia Tech 59
Blacksburg, Va. - Gavin Grant scored all 16 of his points in the second half, and Ben McCauley scored 20, leading North Carolina State over Virginia Tech.
No. 19 Alabama 73, LSU 70
Baton Rouge, La. - Jermareo Davidson scored a career-high 31 points to help Alabama beat LSU.
The victory snapped a two-game skid for Alabama, while LSU (13-8, 2-5) has lost four straight.
Copyright 2018 The Associated Press. All rights reserved. This material may not be published, broadcast, rewritten or redistributed. We strive to uphold our values for every story published.