Wild is an odd word to describe Kansas.
We don't have grizzly bears, tigers or exotic birds. No crashing waves or mountainous terrain. We're largely agricultural.
But there was a day when fishing and hunting, hiking nature trails and observing a heated neighborhood game of kick-the-can was a staple here. As society has become more "advanced," we use our parks less and stay inside with our gadgets, honing our video game prowess, shopping for the next great deal on eBay, absorbing reality shows, expanding, well : our bums.
Kansas Wildscape Foundation is hoping to reverse this trend.
The foundation is striving to make sure Kansans take full advantage of our rich territory, teach our children about the wonders of the outdoors and demolish preconceived notions of "Dorothy and Toto" and "Flat as a Pancake." Kansas is really quite diverse in its geographic layout and beauty, from the rolling Flint Hills to majestic high plains, to raging rivers and calm lakes.
"The most important investment we can make is in our young people," says Tom Garretson, secretary of the foundation board. "If our children do not know and understand wildlife and the value of our natural resources, then who will care in the future? Everyone associated with Wildscape shares a deep appreciation of the quality of life Kansas offers."
Filling the gaps
Kansas Wildscape's mission is "to create and promote outdoor opportunities in Kansas" and remain dedicated to the conservation and perpetuation of the land, wild species and rich beauty of the state for the use and enjoyment of all.
The foundation was officially founded in February 1991 with the primary purpose of taking on projects and performing functions which, for one reason or another - usually a lack of funds - were incapable of being performed by the Kansas Department of Wildlife and Parks. It became evident that the future of Kansas wild areas would depend less on state and local agencies and more on individual involvement.
The foundation is governed by a board of 29 Kansans, all of whom are prominent business and community leaders who felt the need to act, volunteer and speak up to enhance the state's wild places. Last year was a stellar year for the organization; it received several honors, including the Foundation of the Year Award from the National Association of State Park Directors.
Big hands, small hands
Garretson says children in his generation were more inclined to find entertainment by participating in sports and outdoor activities.
Today, he says, "Technology allows children to be entertained inside, in nonphysical activities."
Kansas Wildscape's O.K. Kids Program (Outdoor Kansas for Kids) encourages children to get outdoors and discover ways to enjoy what Kansas has to offer by sponsoring events like fishing derbies, archery, scavenger hunts and bird-watching.
"We are not a 'rods and guns' organization," Garretson says. "In fact, we work hard to find projects that are nonconsumptive. We sponsor Kansas Eco-Meet Program, which is all about identification of the fauna and flora of Kansas. Hundreds of high school students participate in these meets each year, which culminate in a statewide competition where scholarships are awarded.
"Also, our OWLS (Outdoor Wildlife Learning Sites) program established over 150 outdoor learning laboratories at Kansas elementary schools which feature environmental and wildlife habitat."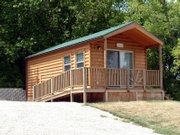 Past projects
The foundation has a lengthy list of projects, many of which will directly affect the Lawrence area and some of which already are available for public play time.
Wildscape has built an observation blind at Gardner Wetlands, provided a grant for fisheries habitat improvement at Perry Lake and created a signage program for Prairie Dog State Park, providing visitors with information on the trail.
Debbie Brandt, director of administration and member services, says Wildscape also raised $1.2 million for the restoration of 2,300 acres of wetlands at Milford Reservoir near Manhattan.
"The wetlands are a major stopover for the migratory birds and provide critical habitat for the fowl, as well as nesting habitat for resident species," she says. "It is becoming a popular destination for bird-watching enthusiasts, and is home of the Kansas Birding Festival."
In the works
Kansas Wildscape has been asked to raise $100,000 for the creation of approximately 400 acres of wetlands at Clinton Lake. The foundation also is working on the Landon Nature Trail in the Clinton Wildlife Area and seeks $30,000 to fund the project, which will complete both the 38-mile Landon trail and the 116-mile Flint Hills Nature Trail, preserving 2,230 acres of natural Kansas beauty.
The group has built rental cabins at Tuttle Creek, Perry Lake and Toronto Lake. Garretson says the cabins were the product of a partnership with the Kansas Department of Wildlife and Parks.
"This is an example of how private and public entities can work together to improve the facilities available to the public," he says. "This five-year program will add a total of 130 cabins for rent at Kansas state parks."
Brandt is proud of another of the foundation's current projects.
"Wildscape has also been involved in the initial planning stages of the Kansas Wetlands Educational Center at Cheyenne Bottoms," she says. "Groundbreaking on the $4 million project will take place this year, with completion in 2008. It will provide a year-round nature education center for youths and adults."
- Jennifer Oldridge, a Kansas University graduate, is an avid gardener who previously operated a landscaping business.
Copyright 2018 The Lawrence Journal-World. All rights reserved. This material may not be published, broadcast, rewritten or redistributed. We strive to uphold our values for every story published.